PARK UPDATE:
Dogs are not permitted at Sandy Point until Oct. 1, 2021. Dogs are permitted, on leash, at Spring Shores Marina and Discovery Park.
Sandy Point closes at 9 p.m.
July 2021:
Due to lack of precipitation, the extensive heat wave and increased water demand, we have the following projections:
Now through July 20, 2021: Lake elevation of 3050'.
July 26, 2021: Lake levels dropping 2.5 vertical feet per day.
July 31, 2021: Last day to use marina pump out.
August 1, 2021: Last day to push docks out. WE STRONGLY RECOMMEND VESSELS IN THE FIRST 12 SLIPS REMOVE THEIR BOATS BY THIS DATE.
August 3, 2021: Last day to use the fuel dock.
Lake levels will continue to drop until we reach the minimum elevation for operating the west boat ramp. We are estimating the entire marina to be on the ground by the 3rd week of August or sooner.
Please keep in mind these are estimates only and can change rapidly and without notice. MOORAGE CUSTOMERS ARE SOLELY RESPONSIBLE FOR THE SAFETY OF THEIR VESSELS.
For additional information please refer to the following links:
About the Park
Lucky Peak State Park is the perfect place for swimming, picnicking, fishing, boating or biking. Sandy Point and Discovery Park are a 10-minute drive from downtown Boise or a 30-minute bike ride on the scenic Boise River Greenbelt. Springs Shores Marina a 40-minute drive. Ride your bike to the park and enjoy a cool dip at the Sandy Point beach. Bring your family and your dog to Discovery Park for a picnic, or bring your water toys to Spring Shores, which offers boat ramps, ample parking, a full-service marina, watercraft rentals, and a convenience store.
Three distinct day use units make up Lucky Peak State Park. Discovery is a popular roadside park that is a great place to host a company party or family reunion. Sandy Point, at the base of the Lucky Peak Dam, is popular for its beach and clear, cool water. Spring Shores offers lakeside access for water enthusiasts by providing two boat ramps, parking, a marina, watercraft rentals, and a convenience store.
Visit the Bureau of Reclamation website for current water levels.
Lucky Peak Newsletter
Click here to read the inaugural issue of the Lucky Peak State Park Newsletter!
Current Conditions
Contact the Park
Address: 74 Arrowrock Rd
Boise, ID 83716
Phone: (208) 334-2432
Hours of Operation: Discovery and Spring Shores: sunrise to sunset, daily. Sandy Point: 8 a.m. to 9 p.m. People and property must leave at closing.
Email the Park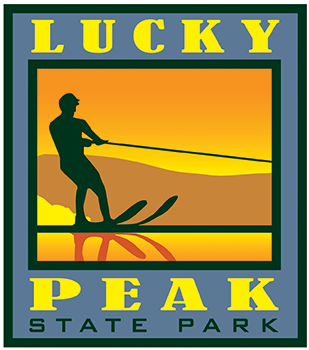 Upcoming Events