PARK UPDATE:
12/01/20: Fire restrictions at the Equestrian Camps have been lifted. 
11/12/20: Fall is a great time to visit and camp at Bruneau Dunes State Park!
Eagle Cove and Broken Wheel Campgrounds have been winterized, but electricity will remain on throughout the winter and vault toilets are available in each campground. (Water is available year round in the Equestrian Campground).
Please give us a call at (208) 366-7919 if you have any questions
Park Reservations
By phone: 1-888-9-CAMPID or 1-888-922-6743
About the Park
With one of the longest camping seasons in the Idaho Parks system, Bruneau Dunes State Park offers camping opportunities throughout the year. Campsites and cabins are available with plenty of first-come, first-served sites too.
Bruneau Dunes park boasts the tallest single-structured sand dune in North America with a peak rising 470 feet above the surrounding desert floor. Explore the dunes in your hiking boots or rent a sandboard from the Visitor Center, but off-road vehicles are only permitted  on the main road. You can also fish for bluegill in the lakes at the foot of the dune; unlock the mystery of the desert with a breathtaking hike or horseback ride; plan a group picnic or visit the Bruneau Dunes Observatory (during non-COVID-19 times) and gaze at the night sky through the Observatory's collection of telescopes.
**Please note: The Observatory Programs only occur on Friday and Saturday evenings (with the exception of 3-day holiday weekends). Observatory season occurs early April through mid-October and is weather-permitting.
Current Conditions
Contact the Park
Address: 27608 Sand Dunes Rd
Bruneau, ID 83647
Phone: (208) 366-7919
Email the Park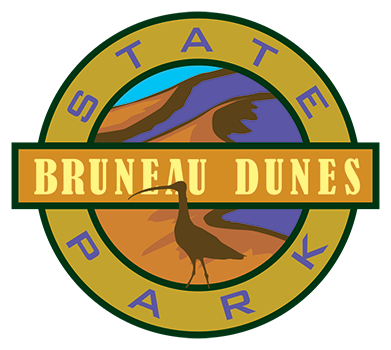 Upcoming Events
No Upcoming Events