PARK UPDATE:
Winter Update 2022:
All campgrounds are open through the winter and power is on. We have turned off domestic water in the Broken Wheel and Eagle Cove campgrounds. Those restrooms have also been winterized, but vault toilets are available in all campgrounds. For those needing water, frost free spigots are located in the Equestrian Campground so you can fill a jug or RV tank.
All campsites are first come/first served until March 16, 2023
The Visitor Center is open 7 days a week through the end of October. We will post new Visitor Center hours next month.
Sand boards are available to rent at the Visitor Center.
Observatory update: The Observatory has closed for the season
Please note: UAV/Drone use is only permitted in the designated UAV area (contact the park for location). Flight outside of the designated are is strictly prohibited.
The park has day use areas, which include the dunes, which are only open to the public from 7 am to 10 pm. Please refer to IDAPA code 26.01.20.
Park Reservations
By phone: 1-888-9-CAMPID or 1-888-922-6743
About the Park
With one of the longest camping seasons in the Idaho Parks system, Bruneau Dunes State Park offers camping opportunities throughout the year. Campsites and cabins are available with plenty of first-come, first-served sites too.
Bruneau Dunes park boasts the tallest single-structured sand dune in North America with a peak rising 470 feet above the surrounding desert floor. Explore the dunes in your hiking boots or rent a sandboard from the Visitor Center, but off-road vehicles are only permitted  on the main road. You can also fish for bluegill in the lakes at the foot of the dune; unlock the mystery of the desert with a breathtaking hike or horseback ride; plan a group picnic or visit the Bruneau Dunes Observatory (during non-COVID-19 times) and gaze at the night sky through the Observatory's collection of telescopes.
Current Conditions
Contact the Park
Address: 27608 Sand Dunes Rd
Bruneau, ID 83647
Phone: (208) 366-7919
Hours of Operation: Day-use locations within state parks are open from 7 am to 10 pm, per Idaho state code 26.01.20 (5). Day-use hours may change based on park manager discretion.
Email the Park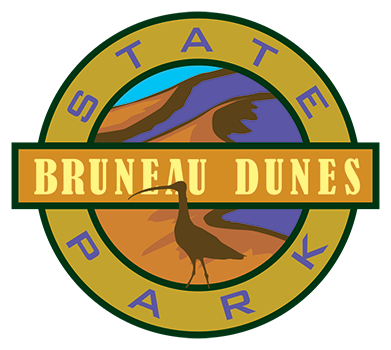 Upcoming Events
No Upcoming Events