You can buy your registrations and permits online, in-person at vendors, or over the phone.
*Note: Changes have been made to the OHV & Snowmobile permit program. Click here for more information.
Online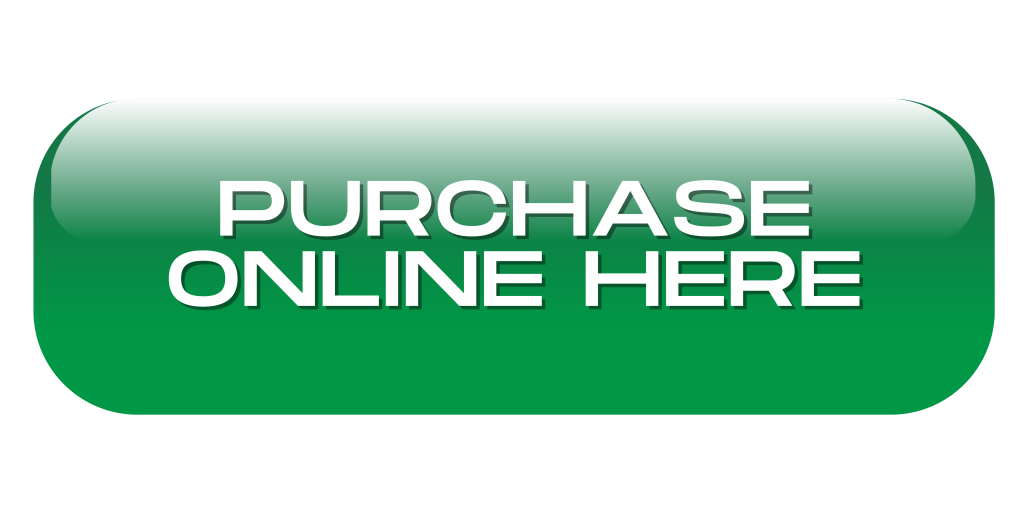 Most of our customers are choosing the convenience of the web option to renew or register their boats and recreational vehicles. Online purchases give you a temporary registration, valid for 60 days, which allows you to go and play — right away.
Haven't used our online system yet?
Please look for yourself HERE in the system before trying to create a new account using your Customer # (located on last years Registration), First & Last Name, and Date of Birth.
You may be asked to update your information. Please do so! Creating duplicate accounts may prevent you from completing the transaction.
If you have never purchased an IDPR registration product or permit — or camped at an Idaho State Park — please create an account.
Please email IDPRCustomerSupport@idpr.idaho.gov if you need assistance.
In Person
Take a look at our Vendor List or Interactive Map for a location near you.
We offer more than 200 vendors in 100 communities across Idaho, Montana, Oregon, Utah, Washington and Wyoming.
Not all vendors can provide a sticker at time of purchase, but you will obtain a receipt that allows you to go and play – your stickers will be mailed to you. Some outlets sell some, but not all, of the registration products, so please check the listings.
Over the Phone
Please call 1-888-922-6743 and a service representative will help you with the transaction.
Agents are available seven days a week, Monday-Friday from 8 a.m. to 7 p.m., Mountain Standard Time (MST), and Saturday and Sunday, 9 a.m. to 5 p.m., MST.
Stuck? Please call 1-888-922-6743 for assistance — please know we sometimes experience wait times during periods of high call volumes. The help email is usually the best option.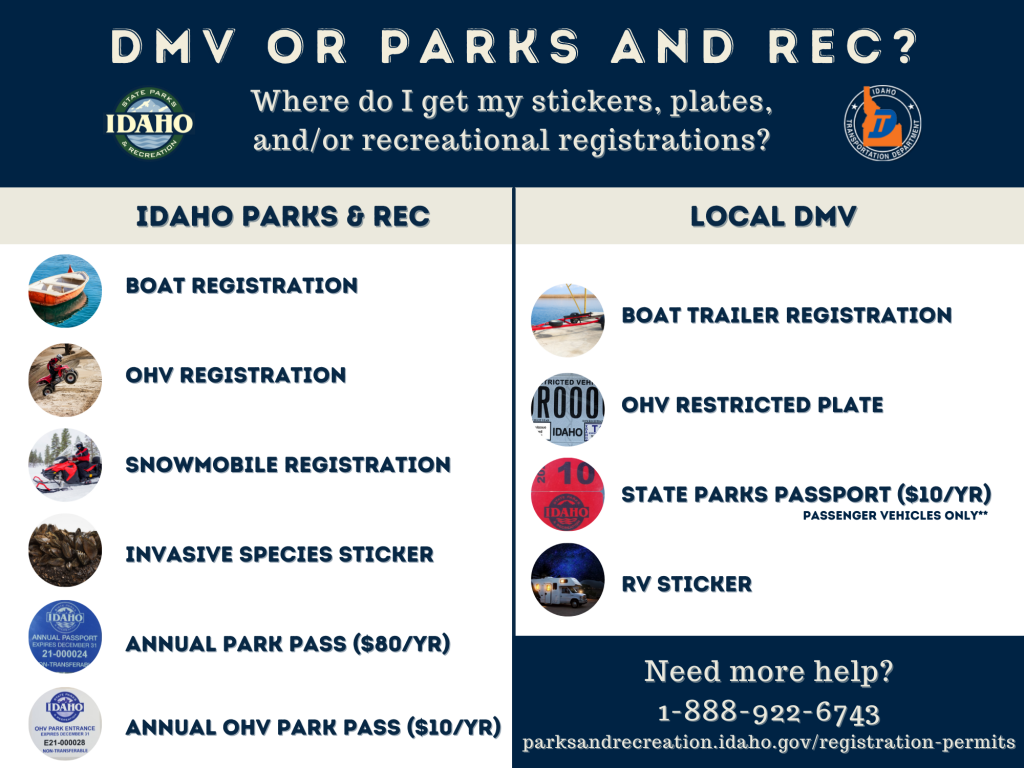 Frequently asked Questions (FAQs)
Q. How has IDPR's registration process changed?
A. The department modernized its approach to recreational vehicle registrations through a web-based program. The conversion ended the reliance on antiquated, hand-written triplicate forms in favor of an online, digital platform.
Q. Who will these changes affect?
A. All off-highway vehicle, boat, and snowmobile owners throughout the state. Purchasers of permits for Invasive Species, Park N' Ski, and Annual State Parks Motor Vehicle Entrance fees will also benefit from this improved system
Q. Where will I be able to buy my registration?
A. Online, at retail vendors across the state, and some local Department of Motor Vehicle (DMV) offices. A full list of vendors is available here. You can conveniently purchase or renew registrations for snowmobiles, boats, and off-highway vehicles online 24 hours a day, seven days a week. You no longer need a renewal PIN, and you can complete first-time registrations online. You can also purchase annual Idaho State Park motor vehicle entry fee (MVEF) stickers, Park N' Ski permits, and Invasive Species Permits online. 


Q. When I purchase online, will I receive my sticker right away or will it be sent in the mail?
A. You will receive a confirmation email right away that will serve as your temporary proof of registration purchase. The permanent sticker and registration document should come in the mail within two weeks.
Q. How long will it take stickers to arrive by mail?
A. IDPR processes orders every business day. Orders are typically filled within 2-3 business days after purchase. During times of high volume, it may take up to 5 business days to fill an order. If you have not received your order within 30-days from the date of purchase, please contact us. Any notifications received after 30-days from date of purchase will require the purchase of a replacement product.
Q. Will I be able to renew more than one vehicle or vessel at a time?
A. Absolutely. The system has an easy-to-use shopping cart feature that allows you to purchase registrations for multiple vehicles and vessels at the same time. You can also add permits, camping reservations, and Idaho Trails Supporter stickers in the same cart.
Q. Where does the money go?
A. During the registration process for boats, off-highway vehicles, snowmobiles, and the purchase process of Park N' Ski permits you will be asked to select a "Use Area" (Primary and Secondary for Boats). By selecting a use area, a portion of your registration dollars are distributed back into that area to be put to work for you by that area's recreational programs. That means if you snowmobile in Fremont County, you can designate that your registration dollars be sent to Fremont County to help the trails and trail heads remain groomed and accessible for your use. Designation of a use area does not limit use to only that area. Your registration is valid statewide.
Monies collected from the purchase of Invasive Species Permits supports the Idaho Department of Agriculture in their efforts to prevent the introduction of aquatic invasive species like quagga mussels.
A. IDPR maintains data security as a top priority and maintains compliance with all current industry standards to ensure your personal data is protected. IDPR does share registration information with various state and local government agencies such as Idaho State Police, Idaho Department of Transportation, and the Idaho State Tax Commission to assist these agencies in fulfilling their various missions as they apply to recreationist throughout the State of Idaho.
Q: Does the motor vehicle entrance fee apply to ATVs, UTVs, and Motorbikes?
Yes, the motor vehicle entrance fee (MVEF) applies to any and all motorized vehicles that can operate independently.