PARK UPDATE:
10/05/20:
The water drawdown for the re-pouring of the boat ramp project lowered the lake's level to an unusable level.
Kayaks can still be launched, but all other vessels will not be able to utilize the boat ramp.
Bitterroot and Camas Loops, the shower house, fish cleaning station and RV dump station have closed for the winter.
Appaloosa Loop will be closed to walk-up camping during November and December.
ATV/OHV and boat registration stickers will not be available during the month of October due to staffing; limited office hours will resume some time in November.
2021 camping reservations can be made on December 10.
Park Reservations
By phone: 1-888-9-CAMPID or 1-888-922-6743
About the Park Winchester Lake State Park is a popular spot if you enjoy fishing for rainbow trout, catfish, or the elusive Tiger Muskie. Other activities during the summer include hiking, mountain biking or meandering around the lake in a canoe or other craft. Winter activities include cross country skiing, snowshoeing and ice fishing.
If you spend the night in Tamarack, our deluxe yurt, you can enjoy the two included bicycles on a ride around the park. All four of our yurts have a canoe included during the summer and snowshoes during the winter. Or stay in one of several peaceful campsites surrounded by beautiful Ponderosa pines with a number of sites having a view of the lake.
The most popular activity at Winchester Lake is fishing for Rainbow Trout, which are planted regularly by the Idaho Department of Fish and Game. Fishing for Perch, Tiger Muskie, Bass, and Blue Gill is also popular. The lake provides excellent nutrients and supports large populations of all four species. Small boats are allowed; gasoline engines are not.
Current Conditions
Contact the Park
Address: 1786 Forest Rd
Winchester, ID 83555
Phone: (208) 924-7563
Email the Park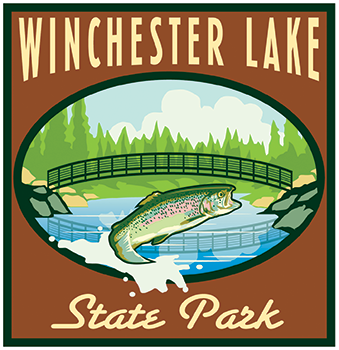 Upcoming Events
No Upcoming Events