PARK UPDATE:
The Visitor Center will be OPEN on Thanksgiving from 9 am to 4 pm. However, it will be CLOSED on November 29 and November 30 for our regional meeting.
Tree Removal/Trimming Project 2023:
Beginning Nov 14th and running through Nov 24th, the park will be doing some major tree trimming and removals. Please note that during this timeframe, the park will be loud with chainsaws and chippers!
Impacted sites: 5, 7, 8, 11-14, 17, 18, 20, 21, 23, 26, 28, 34, 36, 40, 41 Elm, Aspen and Hilltop Cabins.
November 2023 Update:
Wagon Wheel Campsites are Power only.  All water to campsites and sewage dump stations has been turned off until mid-March of 2024!  Restrooms and Shower facilities are available in our Day use area.  Toilet and sink facilities are available on the east end of Trail break Cabin, which is located just inside the Park entrance to the right.   Trailside Campground is closed until March.
General
The Wagon Wheel Campground is now reservable all year long!
Trailside Campground will be reservable in March 2024.
Campsite check-in time is 2 pm. and checkout time is 1 pm.
Cabins require reservations year-round, and they must be made at least 48 hours prior to the arrival date.  The Cottonwood and Sage Cabins are closed from November thru mid-March.
Cabin check-in time is 3 pm. and check-out time is 11 am.
These times are being strictly enforced.  If you arrive before 2 pm., you may park in the overflow parking area and visit the rest of the park.
Park Reservations
By phone: 1-888-9-CAMPID or 1-888-922-6743
About the Park
Modern travelers will find a stay at Three Island Crossing much more hospitable than did the 19th century Oregon Trail pioneers who crossed the mighty Snake River at this location. Located just two miles off Interstate 84 at the Glenns Ferry exit, the park offers campground with water and electrical service, eight cabins, picnic areas, historical interpretive programs and a fascinating admission-free interpretive center.
Take a self-guided tour of the park and see the original wagon ruts and Conestoga replicas. Visit the Oregon Trail History and Education Center to learn more about pioneers, early settlers and Native American history. Dangle your feet or a line in the Snake River where emigrants made their historic crossings. Or sit under a tree and enjoy a picnic lunch.
Current Conditions
Contact the Park
Address: 1083 S.Three Island Park Dr.
Glenns Ferry, ID 83623
Phone: (208) 366-2394
Hours of Operation: Oregon Trail History Center: 7 days a week from 9am to 4pm
Email the Park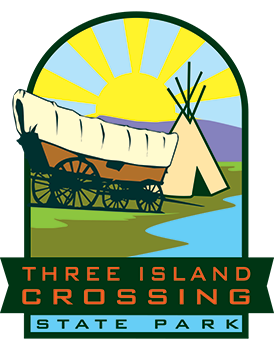 Upcoming Events
No Upcoming Events