PARK UPDATE:
November 2020

Park Facilities have been winterized and all water turned off except for the open restrooms. Please come prepared.

Restrooms are available in the Day Use area and the east side of the green building located past the entrance of the park on the right.

Camping, with electric hookups only, is available on a first come, first serve basis from November 1 until reservation season begins, March 11, 2021.
Cabins are available year-round by reservation only.
The Oregon Trail History and Education Center is open for the winter, Tuesday through Saturday 10:30 a.m. to 4 p.m. Closed Sunday, Monday and holidays.

A maximum of six people can be in the building at any time.
The theater is open with the same hours and limitations.
The main exhibit is closed until further notice because of concerns about the hands-on nature of the experience and COVID-19.

New rates for camping, cabins and Motor Vehicle Entrance Fees will begin December 10, 2020. Future reservations may be made beginning December 10,2020. All new fees will include tax.
Park Reservations
By phone: 1-888-9-CAMPID or 1-888-922-6743
About the Park
Modern travelers will find a stay at Three Island Crossing much more hospitable than did the 19th century Oregon Trail pioneers who crossed the mighty Snake River at this location. Located just two miles off Interstate 84 at the Glenns Ferry exit, the park offers campground with water and electrical service, eight cabins, picnic areas, historical interpretive programs and a fascinating admission-free interpretive center.
Take a self-guided tour of the park and see the original wagon ruts and Conestoga replicas. Visit the Oregon Trail History and Education Center to learn more about pioneers, early settlers and Native American history. Dangle your feet or a line in the Snake River where emigrants made their historic crossings. Or sit under a tree and enjoy a picnic lunch.
Current Conditions
Contact the Park
Address: 1083 S.Three Island Park Dr.
Glenns Ferry, ID 83623
Phone: (208) 366-2394
Hours of Operation: Oregon Trail History Center: 10:30 a.m. to 4 p.m., Tuesday-Saturday. Closed Sunday, Monday and holidays. Call ahead to verify hours.
Email the Park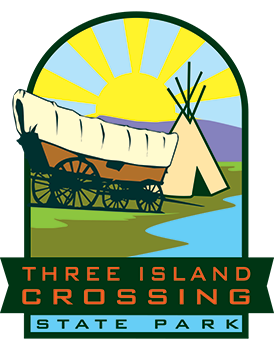 Upcoming Events
No Upcoming Events