PARK UPDATE:
Spring 2022
Visitor Center Hours:
Daily       9:00am to 4:00pm
General
All campsites are reservable during our peak season only, mid-March thru October.  November thru mid-March our Wagon Wheel Campground (sites 1-43) is open on a first come first serve basis, with limited services available.
Campsite check-in time is 2 pm. and checkout time is 1 pm.
Cabins require reservations year-round, and they must be made at least 48 hours prior to the arrival date.  The Cottonwood and Sage Cabins are closed from November thru mid-March.
Cabin check-in time is 3 pm. and check-out time is Noon.
These times are being strictly enforced.  If you arrive before 2 pm., you may park in the overflow parking area and visit the rest of the park.
**Note:  If you are sick, have a cough, fever, or have knowingly been exposed to COVID-19, please do not enter the Oregon Trail Education and History Center.
Park Reservations
By phone: 1-888-9-CAMPID or 1-888-922-6743
Three Island Crossing Maps
Current Conditions
Contact the Park
Address: 1083 S.Three Island Park Dr.
Glenns Ferry, ID 83623
Phone: (208) 366-2394
Hours of Operation: Oregon Trail History Center: 7 days a week, 9 am - 4 pm
Email the Park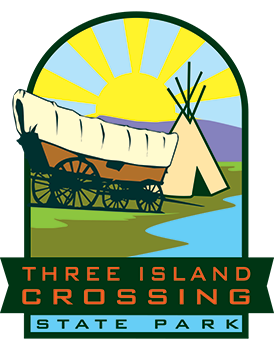 Upcoming Events
No Upcoming Events