PARK UPDATE:
March 2021
Camping is available in Wagon Wheel and Trailside loops, with electric hookups only, on a first come, first serve basis, March 1- 10, 2021.
All campsites are reservable beginning March 11, 2021. Same-day camping, excluding cabins, (first-come, first-serve) will be available if there are unreserved sites for that day.

Campsite Check-In time is 2 p.m. and Check-Out time is 1 p.m. These times are strictly enforced. If you arrive before 2 p.m., you can wait in overflow parking and visit the rest of the park.

Cabins are available year-round by reservation only.
Park facilities remain winterized and water is off until March 11 with exception for the open restrooms. Please come prepared.

Restrooms are available in the Day Use area and the east side of the green building located past the entrance of the park on the right.
Water is expected to be turned on to all park facilities and campgrounds by March 11, 2021 but remains weather dependent.  If temperatures are expected to drop the water will be turned off at night. Please come prepared.
Showers will remain closed until further notice due to COVID-19.

The Oregon Trail History and Education Center is open Tuesday through Saturday 10:30 a.m. to 4 p.m. Closed Sunday, Monday, and holidays.

A maximum of six people can be in the building at any time.
The theater is open with the same hours and limitations.
The main exhibit is closed until further notice due to COVID-19.

All new fees are posted at the entrance and the fee stations located in the campgrounds.
Park Reservations
By phone: 1-888-9-CAMPID or 1-888-922-6743
Three Island Crossing Maps
Current Conditions
Contact the Park
Address: 1083 S.Three Island Park Dr.
Glenns Ferry, ID 83623
Phone: (208) 366-2394
Hours of Operation: Oregon Trail History Center: 10:30 a.m. to 4 p.m., Tuesday-Saturday. Closed Sunday, Monday and holidays. Call ahead to verify hours.
Email the Park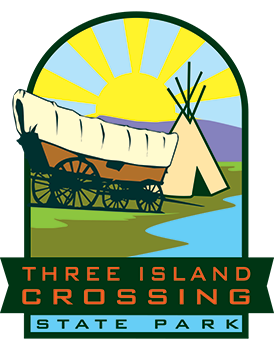 Upcoming Events
No Upcoming Events