PARK UPDATE:
March 2023 Update:
Due to the predicted weather and freezing temperatures, the water at individual campsites will not be available until warmer temperatures arrive.  Potable water will be available at the sewage dump stations during the day as temperatures allow but will be shut off in late afternoon.  We will keep you updated as the weather changes and we look forward to seeing you for some great Spring camping.
November 1, 2022 to March 15, 2023: Camping, with electric hookups only, is available on a first come first serve basis in our Wagon Wheel campground, Trailside campground is closed.
Restrooms are available throughout the winter in the Day Use area and on the east end of Trail break Cabin near the Park Entrance.  Park Facilities have been winterized until spring.
Cabins require 48 hour advance reservations. Sage and Cottonwood Cabins are closed for the winter.
General
All campsites are reservable during our peak season only, mid-March thru October.  November thru mid-March our Wagon Wheel Campground (sites 1-43) is open on a first come first serve basis, with limited services available.
Campsite check-in time is 2 pm. and checkout time is 11 am.
Cabins require reservations year-round, and they must be made at least 48 hours prior to the arrival date.  The Cottonwood and Sage Cabins are closed from November thru mid-March.
Cabin check-in time is 3 pm. and check-out time is Noon.
These times are being strictly enforced.  If you arrive before 2 pm., you may park in the overflow parking area and visit the rest of the park.
**Note:  If you are sick, have a cough, fever, or have knowingly been exposed to COVID-19, please do not enter the Oregon Trail Education and History Center.
Park Reservations
By phone: 1-888-9-CAMPID or 1-888-922-6743
Three Island Crossing Maps
Current Conditions
Contact the Park
Address: 1083 S.Three Island Park Dr.
Glenns Ferry, ID 83623
Phone: (208) 366-2394
Hours of Operation: Oregon Trail History Center: Winter hours - 9am to 4 pm Tuesday thru Saturday | Closed Sunday, Monday, and holidays
Email the Park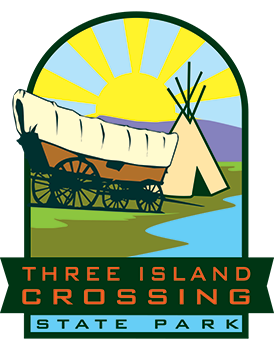 Upcoming Events
No Upcoming Events