PARK UPDATE:
October 2023 Update:
Visitor Center is now open 9-4 everyday through the winter. Camping is available until snow flies in the Gilmore campground. Water turns off on the morning of October 8 but electricity will still be available. The Museum at the Brig is closed until Memorial Day 2024.
Temporary Course Closures: Please avoid the indicated courses on the following days:
September 23rd – Apex Trilogy, Wreckreator will be closed
October 11th – Apex Tournament, Northstar and AWOL will be closed
November 11th – Apex night tournament, Northstar and Little Black Bear will be closed.
Park Reservations
By phone: 1-888-9-CAMPID or 1-888-922-6743
About the Park
Once a World War II-erea naval training station, this 4,000-acre park now provides camping opportunities with 223 individual sites, 10 camping cabins, and 7 group camps.
Located on the southern tip of Lake Pend Oreille in the Coeur d'Alene Mountains of northern Idaho, Farragut State Park offers unique scenery, history and an abundance of recreational opportunities, including disc golf, a radio-controlled airplane field, fishing, hiking, biking, equestrian facilities and World War II history — don't miss the Museum at the Brig during your visit. Museum opens Memorial Day and closes Labor Day each year.
Current Conditions
Contact the Park
Address: 13550 E. Hwy 54
Athol, ID 83801
Phone: (208) 683-2425
Hours of Operation: Winter VC Hours: 9am - 4pm. Day-use locations within state parks are open from 7 am to 10 pm. Day-use hours may change based on park manager discretion. Museum opens Memorial day and closes Labor day each year.
Email the Park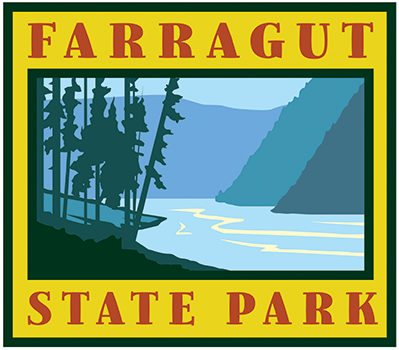 Upcoming Events