PARK UPDATE:
October 2023 Update:
Visitor Center is now open 9-4 everyday through the winter. Camping is available until snow flies in the Gilmore campground. Water turns off on the morning of October 8 but electricity will still be available. The Museum at the Brig is closed until Memorial Day 2024.
Temporary Course Closures: Please avoid the indicated courses on the following days:
September 23rd – Apex Trilogy, Wreckreator will be closed
October 11th – Apex Tournament, Northstar and AWOL will be closed
November 11th – Apex night tournament, Northstar and Little Black Bear will be closed.
Park Reservations
By phone: 1-888-9-CAMPID or 1-888-922-6743
Download Farragut Maps
Current Conditions
Contact the Park
Address: 13550 E. Hwy 54
Athol, ID 83801
Phone: (208) 683-2425
Hours of Operation: Winter VC Hours: 9am - 4pm. Day-use locations within state parks are open from 7 am to 10 pm. Day-use hours may change based on park manager discretion. Museum opens Memorial day and closes Labor day each year.
Email the Park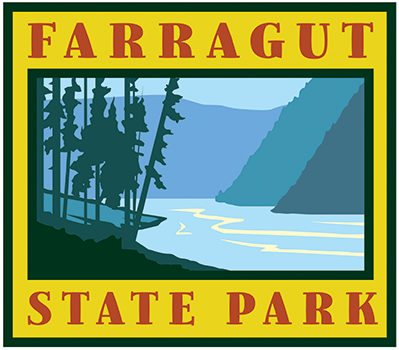 Upcoming Events