PARK UPDATE:
Eagle Island State Park has a new policy regarding dogs off-leash and has designated an area and trails that are open to off-leash dogs that are under the demonstrated control of their owners. Click here for details.
Attention Visitors:
Park staff will be conducting hazardous tree removal and clean up at Eagle Island State Park beginning November 14-17, 2022
The decision to remove the trees in question was arrived at while working through the hazard tree assessment process that is used to identify potential hazards and maintenance issues related to tree health in the park. The trees that will be removed are at the end of their life, have been stressed due to disease, and are located in areas that present a hazard to the public or the facilities of the park. To ensure visitor safety and allow park staff to complete this important project please do not enter work areas during the tree removal and cleanup process.  
For additional information please contact the park at EAG@idpr.idaho.gov or by phone at 208-939-0696
About the Park
Eagle Island State Park is a 545-acre park west of Boise. Bordered on the north and south by the Boise River, Eagle Island features a swimming beach, grassy picnic area and more than five miles of trails for horseback riding, hiking or walking your dog. The waterslide opens Memorial Day weekend and is open generally until Labor Day.
A 19-hole disc golf course provides a challenge for players. Check out Eagle Island's Disc Golf Club, click here!
The park is open to only non-motorized boats.
Current Conditions
Contact the Park
Address: 165 S Eagle Island Pkwy
Eagle, ID 83616
Phone: (208) 939-0696
Hours of Operation: Day-use locations within state parks are open from 7 am to 10 pm, per Idaho state code 26.01.20 (5). Day-use hours may change based on park manager discretion.
Email the Park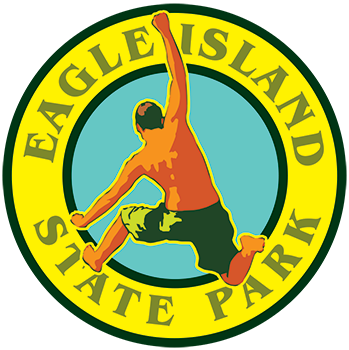 Upcoming Events