PARK UPDATE:
March 2023 Update: 
Eagle Island State Park's drinking water system is currently being improved. To complete the project, drinking water at the park is temporarily shut off.
Flush toilets and hand washing stations are available. But we do ask that you please bring your own drinking water as you visit the park.
Regular updates will be provided as the project moves forward.
If you have any questions, please contact the park at (208) 939-0696, or by email at eag@idpr.idaho.gov
We apologize for the inconvenience and appreciate your understanding as we complete this important improvement.
Eagle Island State Park in mid-2022 enacted a new policy regarding dogs off-leash and has designated an area and trails that are open to off-leash dogs that are under the demonstrated control of their owners. Click here for details.
Eagle Island State Park was first purchased by the State in 1929. Prior to that, it was used for agricultural purposes, primarily as grazing land for cattle and hogs. Other agricultural crops have included grain, hay and various vegetable crops. The site was operated as a penitentiary farm until 1977. In 1983, the State developed the site as a park to include a water slide, picnic areas, restrooms, concessions, swimming areas and trails.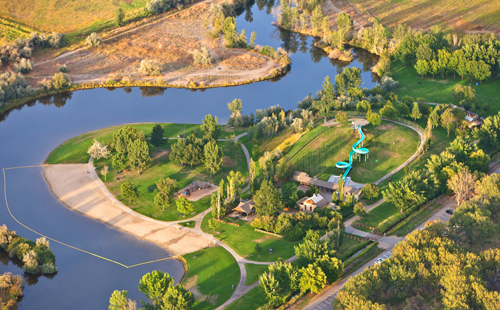 Today, the 545-acre park is still predominantly rural in character. Located in the southwest corner of Idaho, it is bordered on the north and south by the Boise River with agricultural land to the east and west. Urban and suburban uses have also developed around the park in recent years with residential neighborhoods north and south across the two channels of the Boise River. The Idaho Department of Fish and Game operates a fish hatchery to the southwest of Eagle Island State Park.
The park is heavily used in the summers by visitors swimming in the lake and using the water slide, picnicking, playing disc golf, walking on the many trails, and engaging in other types of passive, informal recreation. There are also a number of scheduled events at the park, drawing large numbers of visitors to the site. Many groups use the east shelter for weddings, receptions, birthdays and other family events. The rest of the year, the park is currently used for fishing, hiking, and horseback riding.
History Timeline
1929 – State Board of Prisons purchases Eagle Island property for use as a prison honor farm.
1930 – Eagle Island Prison Farm begins operations with 40 trustees.  Dairy barns and milking parlor built.  Original bunkhouse and dining hall/kitchen is completed.
1949 – Dormitory built by prison labor.
1965 – Idaho State Legislature enacted enabling legislation creating the Idaho Department of Parks and Recreation (IDPR).  Slaughter house is built at Eagle Island Prison Farm.
1977 – Idaho Department of Corrections discontinues operation of Eagle Island Honor Farm and turns over the property to the Idaho Department of Lands.  Idaho Department of Lands Board votes to set aside Eagle Island property for development as a State Park.
1980 – IDPR Board approves Eagle Island State Park General Development Plan and hires first manager.
June 25, 1983 – Eagle Island State Park is dedicated.  Approximately 26 acres developed with waterslide, picnic areas, restrooms, concession building and swimming area.
Looking to the Future at Eagle Island State Park
Exciting changes will be taking place at Eagle Island State Park. Once construction begins following the park's master plan, the layout of the park will change and recreation opportunities within the park will be expanded. Throughout each construction phase the park will continue to be accessible to the public, although the trail system will change with each phase.
Current Conditions
Contact the Park
Address: 165 S Eagle Island Pkwy
Eagle, ID 83616
Phone: (208) 939-0696
Hours of Operation: Day-use locations within state parks are open from 7 am to 10 pm, per Idaho state code 26.01.20 (5). Day-use hours may change based on park manager discretion.
Email the Park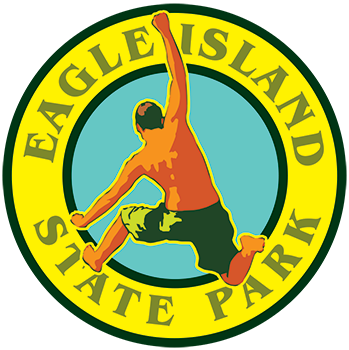 Upcoming Events