PARK UPDATE:
Sign up for Construction Updates here!
Construction Update Oct 2023
Main state street entrance is open
Hatchery entrance is still closed
Construction has started—please stay out of the fields and be respectful of construction areas and workers
Attention Park Visitors: Please adhere to trail closure signs during the construction process. The shop road/horse trailer access road is currently closed but will reopen when it is safe to do so. We ask that horse trailers please use our overflow gravel parking lot for the time being!
Please note: The completed campground will not impact trail areas, this is only temporary while work is being done. Thank you!
Historic Building Renovations:
The park will also be working on historic building renovations. Please be mindful of workers in the area.
Eagle Island State Park in mid-2022 enacted a new policy regarding dogs off-leash and has designated an area and trails that are open to off-leash dogs that are under the demonstrated control of their owners. Click here for details.
 Construction Begins on Eagle Island Campground Oct 2023
In mid-October 2023, construction crews broke ground on the new Eagle Island State Park Campground. This project has been part of the Eagle Island Master Plan for over 20 years and we at Idaho Parks and Recreation are incredibly excited to offer it to the public! As with all construction projects, this will come with changes – some temporary, some permanent.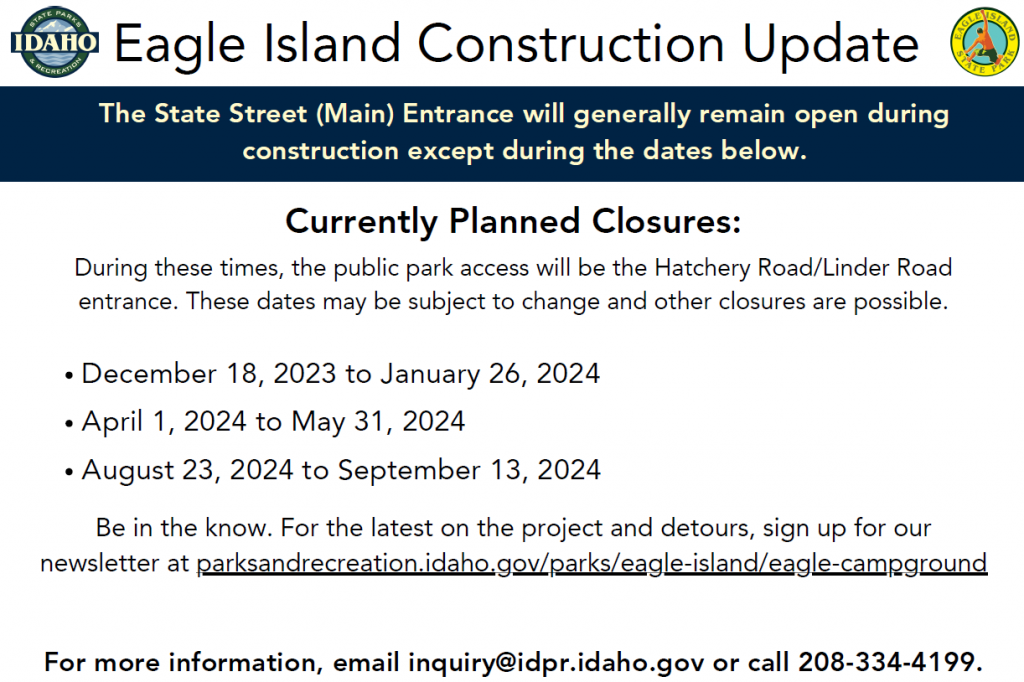 Basic Campground Info:
50 site RV campground with full water and electrical hookups
A second pond will be built in conjunction
The campground is slated to be open to the public in the Fall of 2024
Temporary Changes:
There will be periodic closures of the main State Street/Highway 44 entrance for public safety and use of the Hatchery Road entrance for the general public for short periods of time.
We plan to keep the main entrance operational for most of the year-long project with short-term switches to the Hatchery entrance as required for construction and safety.
Please keep out of the field where crews are working. 
Campground History:
A second pond and a campground was part of the original Eagle Island Master Plan (developed in the early 2000s).
Funding for this project comes from the Land and Water Conservation Fund, therefore we will be working with the National Park Service (NPS) on this project as they are the distributers of the funding source.
IDPR will also be working with the State Historical Preservation Office (SHPO) to preserve the on-site historic buildings.
In conjunction with both NPS and SHPO, IDPR will develop an educational and interpretive component of the park. 
For more information about the partnership with NPS and SHPO, you may read the Memorandum of Understanding for this project here.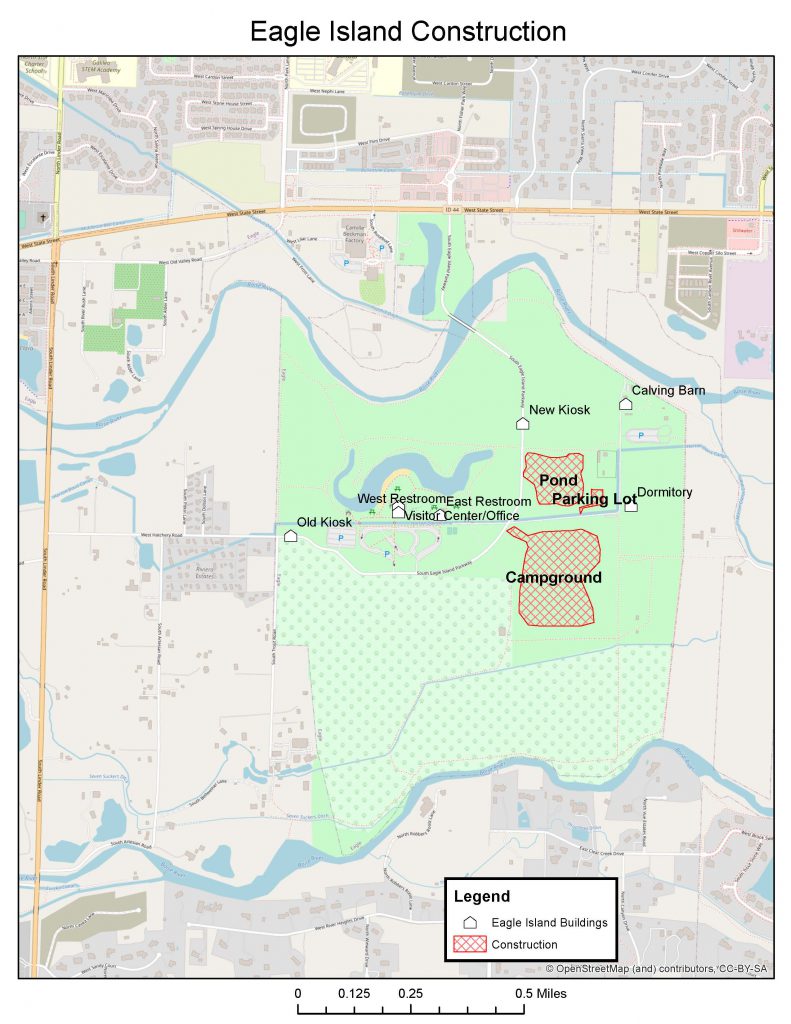 Current Conditions
Contact the Park
Address: 165 S Eagle Island Pkwy
Eagle, ID 83616
Phone: (208) 939-0696
Hours of Operation: Sunrise to sunset
Email the Park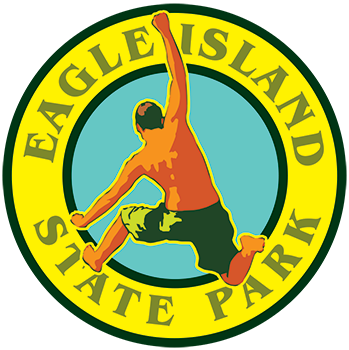 Upcoming Events