Development Bureau 
The IDPR Development Department is in charge of all IDPR related building and maintenance projects; everything from campsite upgrades to the construction of new visitor centers.
IDPR Seeking Grants – Public Input Sought
 Bear Lake Seeking WIF Grant Funding
Bear Lake State Park is seeking grant funding from the Waterways Improvement Fund (WIF) to replace the boat ramp at the North Beach unit of the park. The current concrete ramp is being washed out and is failing. This project will replace undermined portions of the boat ramp, protect the concrete, widen the launch lanes, pave the boat ready area, and improve traffic flow and trailer parking. Bear Lake State Park is applying for $180,000 from the WIF program.
If you have any comments or questions related to this project or the application, please contact Melanie Schuster, Development Bureau Chief, at (208) 514-2469 or melanie.schuster@idpr.idaho.gov.
Deadline for comments is January 17, 2023.
Some of the major projects underway include:
Billingsley Creek Campground: IDPR is constructing a 50 unit RV campground at the Billingsley Creek Unit of Thousand Springs State Park in Hagerman. The RV campground will have water, sewer, and 50amp electrical hookups, as well as a shower house. The campground will be adjacent to the newly completed visitors center shared between IDPR and The National Park Service.
Bruneau Dunes Observatory: The observatory is scheduled to be complete by late April 2023.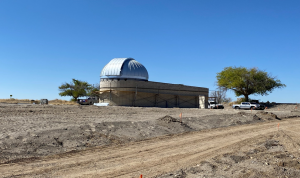 Upcoming Development Projects 2023
REQUEST FOR QUALIFICATIONS
The table below includes some of the projects planned, but is by no means all inclusive. For more information about upcoming projects contact the Development Bureau at nadine.curtis@idpr.idaho.gov.
| Design & Engineering Projects | Request for Qualifications (Design/Design-Build) |
| --- | --- |
| | |
| Massacre Rocks State Park | |
| | |
| | |
| | Water & Septic System Upgrades |