Development Bureau 
The IDPR Development Department is in charge of all IDPR related building and maintenance projects; everything from campsite upgrades to the construction of new visitor centers.
Electrical Upgrades -- Three Island Crossing State Park
Sealed proposals will be received by the State of Idaho, Department of Parks and Recreation, 5657 Warm Springs Ave., Boise, ID 83716 until 2pm, local time, on Tuesday December 7th, 2021 for IDPR Project No. 330612, Campground Electrical Upgrades, Three Island State Park, Glenns Ferry, ID. Proposals will be opened and publicly read at the above hour, date and location.
A description of the work of this project can be summarized to include upgrade of the electrical systems and pedestals at the Trailside Campground at Three Island State Park
A pre-bid conference will be held at the project site, in Three Island State Park, Glenns Ferry, Idaho on Friday, November 19th, 2020 starting at 10am. General Contractors intending to submit a bid are encouraged to attend.
Plans, specifications, proposal forms and other information are on file for examination at the following locations:
Idaho Dept. of Parks & Recreation, 5657 Warm Springs Ave., Boise, ID 83716 (208) 514-2451
Associated General Contractors, 1649 W. Shoreline Dr., Ste. 100, Boise, ID 83702 (208) 344-2531
ARC Document Solutions, 2700 W. Idaho St., Boise, ID 83702 (208) 342-4141
Blueprint Specialties, 6205 W. Overland Rd., Boise, ID 83709 (208) 377-0294
A bid bond in the amount of 5% of the total bid amount, including any add alternates, is required.
Bid Documents are available electronically free of charge. Bidders can obtain documents by contacting:
Nadine Curtis
Idaho Department of Parks and Recreation
5657 Warm Springs Ave.
Boise, Idaho, 83716 (208)-514-2451
Nadine.Curtis@idpr.idaho.gov
Or
Erik Bush
Idaho Department of Parks and Recreation
5657 Warm Springs Ave.
Boise, Idaho, 83716 (208)-803-4813
erik.bush@idpr.idaho.gov
A Public Works Contractors License for the State of Idaho is required to bid on this work.
Estimated Cost: $375,000
Questions regarding this advertisement may be directed to Jon Farren, Engineer at Farren Engineering, (208)-484-5190, or Erik Bush, IDPR Design Professional at the Boise Headquarters, (208) 803-4813.
 Some of the major projects underway include:
Thousand Springs Visitors Center: Construction of a $2.5 million, 3,400-square-foot building started in late September and will last for a year. The project will unite Idaho Department of Parks and Recreation with the National Park Service, becoming a central location for Thousand Springs State Park and the Hagerman Fossil Beds National Monument. Details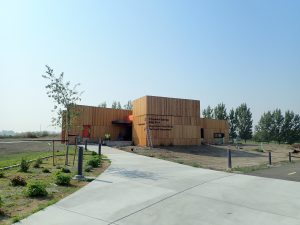 Bruneau Dunes Green Space Visual System: CARES Act 2.0 project which will allow visual transmission from the telescope to the Steele-Reese Building. This project has been awarded and will replace all the audio-visual equipment. This work is scheduled to be installed mid-October 2021.
Bear Lake East Beach Paving Final Phase & Kiosk: This is currently under construction, we will be starting the ground work for the Kiosk footings on Monday 09/20/21. The project substantial completion scheduled for October 31st, 2021. As a result of this project, in 2022 we will be constructing 2 new CXT's one near the Kiosk to the North and one on the East side of the South parking lot.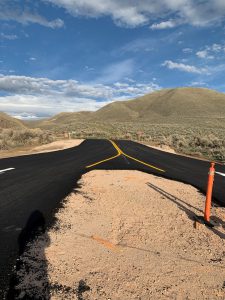 Harriman Pave Entrance Phase 2: Construction began on the 14th and is currently underway it is scheduled for substantial completion on October 1st with a contract end date of October 2.
REQUEST FOR QUALIFICATIONS
Upcoming Development Projects 2022
The table below includes some of the projects planned, but is by no means all inclusive. For more information about upcoming projects contact the Development Bureau at nadine.curtis@idpr.idaho.gov.
| Design & Engineering Projects | Request for Qualifications (Design) | Anticipated Construction Date |
| --- | --- | --- |
| Hells Gate: Marina Dock Replacement | | |
| Hells Gate: Repair & Resurface Trails | | |
| Henrys Lake: Boat Launch Restroom Remodel | | |
| Thousand Springs: Re-Roof Ritter Island Barn | | |
| Bear Lake Campground Phase 2 Electrical Upgrades | | |
| Bear Lake East Campground Water Upgrades | | |
| Hells Gate: Sewer Upgrades | | |
| Priest Lake: Campground Electrical Upgrades | | |
| McCroskey: Vault Toilet and Parking | | |
| Heyburn: Rocky Point Dispenser Replacement | | |
| Coeur d'Alene Parkway: Rehabilitate Vault Toilets | | |
| Trail of Coeur d'Alenes: Restripe Trail and Parking Area | | |
| Hells Gate: Repair and Resurface Trails | | |
| Dworshak: Water Tower Inspections | | |
| Priest Lake: Group Camp Restroom Shower Replacement | | |