PARK UPDATE:
The Ashton Visitor Center is closed for the 2023 season
Please Be Bear Aware! The Ashton-Tetonia Trail sees heightened bear activity during the fall season, requiring visitors to use extra caution when recreating. Please read park signage where posted, be aware of your surroundings, make noise, travel in groups and only hike/bike during daylight hours.
Keep off the trail when it's muddy and do not approach wildlife. Thank you!
About the Park
The Ashton-Tetonia Trail opened to the public in 2010 and is administered by the Idaho Department of Parks and Recreation and managed through Harriman State Park. This 29.6 mile trail follows the abandoned railroad grade of the Teton Valley Branch of the Union Pacific Railroad from Ashton to Tetonia.
Built in 1912, the Oregon Short Line Railroad, a subsidiary of the Union Pacific Railroad, connected the communities of Ashton, Idaho, through Drummond, Lamont, Tetonia, Driggs, and Victor. The railroad brought prosperity to the sparsely populated Teton Valley; it connected formerly isolated communities and commerce, and moved important agricultural freight, such as livestock, seed potatoes, peas, and grain.
Though heavy snowfall often closed the line for days at a time, the railroad was essential transportation in Teton Valley. For many years, passenger trains ran to and from Victor each day, with connections in Ashton and Idaho Falls for West Yellowstone, Pocatello, and Salt Lake City.  The Oregon Short Line was also the best route to Yellowstone and Grand Teton National Parks, carrying visitors to the dude ranches of Jackson Hole. Improvements to State Highways 32 and 33 caused a significant decline in rail use in the 1960's. Fewer people traveled by passenger train, and much of the freight began to be transported by trucks. The line was abandoned from Tetonia to Victor in 1981, and from Ashton to Tetonia in 1984.
The trail winds through small riparian areas and stands of aspen trees, and over three historic trestle bridges. Just west of the Teton Range, the Ashton-Tetonia Trail once again connects people and places, the past and future. Completed in 2010 under the Rails to Trails Conservancy program, the abandoned rail was transformed into a vibrant public space managed by the Idaho Department of Parks and Recreation.  The 29.6-mile trail features riding through a pristine and secluded environment that hearkens back to simpler times.  Today, visitors will enjoy the beautiful farm country of eastern Idaho, 3 bridge crossings, and unsurpassed views of the Teton Mountains. The historic train trestles at Fall River, Conant Creek, and Bitch Creek span 600' in length and 130' in height, and are popular landmarks along the trail. Visitors can experience the trail by hiking, biking, horseback riding, as well as Nordic skiing, snowshoeing, and snowmobiling in winter. The trail is packed gravel/dirt, so mountain bikes (or bikes with tires at least 32mm wide) are recommended. Road bikes are not appropriate.
Current Conditions
Contact the Park
Address: Visitor Center: 801 N Hwy 20
Ashton, ID, ID 83420
Phone: (208) 652-7520 Summer | (208) 558-7368 Winter
Hours of Operation: Visitor Center: 8:00 am – 4:00 pm Friday through Monday Memorial Day through Labor Day
Email the Park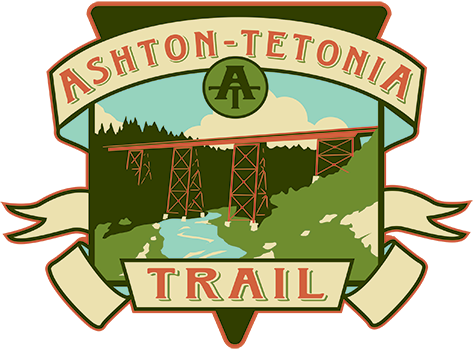 Upcoming Events
No Upcoming Events