PARK UPDATE:
Construction is Coming:
Work on the new campground will begin in mid-September and is expected to last until late August 2024, impacting area traffic. For safety, construction traffic — including dump trucks and heavy equipment — will utilize Eagle Island Parkway off State Highway 44/State Street; public traffic generally will not be allowed. Keeping construction equipment out of the residential area will reduce conflict and noise impacts.
Park visitor traffic will be rerouted to Hatchery Road/Trout Road off of Linder Road for the duration of construction. Project updates will be posted here throughout the work. The Idaho Department of Parks and Recreation is working with the Ada County Highway District and the Idaho Transportation Department on the project to mitigate the impacts to the greatest extend possible.
Historic Building Renovations:
The park will also be working on historic building renovations. Please be mindful of workers in the area.
Eagle Island State Park in mid-2022 enacted a new policy regarding dogs off-leash and has designated an area and trails that are open to off-leash dogs that are under the demonstrated control of their owners. Click here for details.
Download Eagle Island Maps
Current Conditions
Contact the Park
Address: 165 S Eagle Island Pkwy
Eagle, ID 83616
Phone: (208) 939-0696
Hours of Operation: Sunrise to sunset
Email the Park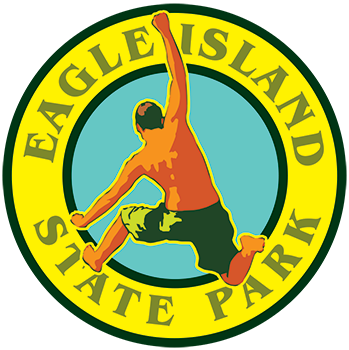 Upcoming Events