PARK UPDATE:
Sign up for Construction Updates here!
Construction Update Oct 2023
Main state street entrance is open
Hatchery entrance is still closed
Construction has started—please stay out of the fields and be respectful of construction areas and workers
Attention Park Visitors: Please adhere to trail closure signs during the construction process. The shop road/horse trailer access road is currently closed but will reopen when it is safe to do so. We ask that horse trailers please use our overflow gravel parking lot for the time being!
Please note: The completed campground will not impact trail areas, this is only temporary while work is being done. Thank you!
Historic Building Renovations:
The park will also be working on historic building renovations. Please be mindful of workers in the area.
Eagle Island State Park in mid-2022 enacted a new policy regarding dogs off-leash and has designated an area and trails that are open to off-leash dogs that are under the demonstrated control of their owners. Click here for details.
There's so much to do at Eagle Island State Park, including:
The park has over 5 miles of trails for you to explore. Our trails border part of the South Channel and North Channel of the Boise River or you can explore our trails that run between our farm fields! A map is available for download that shows trails within Eagle Island State Park.
Listed as an important bird area by the National Audubon Society, you can potentially see a variety of birds at Eagle Island State Park! The Boise River flows through the park and provides habitat for Wood Ducks, Belted Kingfisher, and Great Blue Heron. Some of the other birds recorded in the park include Osprey, Yellow Warbler, Yellow-rumped Warbler, Common Yellowthroat, Swainson's Hawk, Red-tailed Hawk, Northern Harrier, American Kestrel, Black-necked Stilt, Wilson's Phalarope, Wilson's Snipe, Killdeer, Great Egret, Sora, Western Kingbird, Black-billed Magpie, Mallard, Blue-winged Teal, Northern Shoveler, Loggerhead Shrike, Tree Swallow, Barn Swallow, and Cliff Swallow.
Paddling/Non-Motorized Water Craft
Enjoy our man-made lake with your non-motorized watercraft. Don't have one of your own? You can rent one with our concessionaire on site (Memorial Day to Labor Day)
Eagle Island has a 19-hole disc golf course. Bring your own discs to enjoy this intermediate challenge golf course.
Wanna join our club? Club web page found here! 
Own horses? Enjoy most of our park by horseback riding! Horses are allowed on over 5 miles of trails except our recreational area. Park at our trailhead parking lot made specifically for horse trailers. We offer tie offs and a mounting ramp for your convenience.
Our man-made lake is stocked with fish throughout the year. You could catch rainbow trout, bass, bluegill or perch. Don't own a fishing pole or tackle box? Come borrow one from our visitor center with our loaner fishing program! Fishing rules and regulations apply, loaner fishing pole and tackle boxes available during visitor center open hours.
The 546 acres which comprise the total park area were first developed in 1930 to function as an honor farm for 30 to 40 state prison inmates. Various crops and livestock produced on the farm were used for the prison operation. Many of the original farm structures remain, including the dairy barns, slaughterhouse and dormitory building. The farm property was turned over to the Idaho Department of Lands in 1977, and in 1978 the property was transferred to the Idaho Department of Parks and Recreation for a state park. While unable to explore inside the farm structures, you are able to come and walk around the original farm structures and see what they look like!
Help your children discover more about the outdoors while learning about our park and making connections to the natural world! Stop by our visitor center to grab a Junior Ranger booklet and complete four of the activities to receive one of our Eagle Island badges! We also offer Gootium backpacks that contain all that you need for a self-guided trek through the park. With binoculars, magnifiers, field guides, and other equipment to enrich your exploration and understanding of nature. Backpacks are only available to loan out during visitor center hours.
Attention Eagle Island Visitors: The waterslide is closed until further notice.
On June 21, 2023, we had to make the difficult decision to close the waterslide. There are some mechanical concerns that park staff would like to address before we can safely open to the public. The slide will be closed until we can fully assess the situation and get repairs made. We truly apologize for this inconvenience.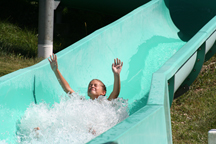 Current Conditions
Contact the Park
Address: 165 S Eagle Island Pkwy
Eagle, ID 83616
Phone: (208) 939-0696
Hours of Operation: Sunrise to sunset
Email the Park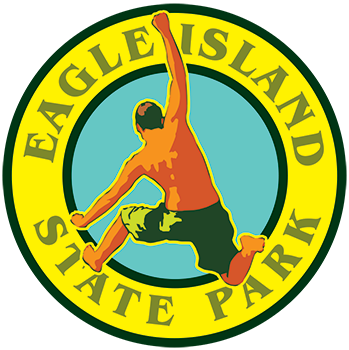 Upcoming Events