PARK UPDATE:
May 2021:
Attention Visitors: The busy season has officially begun and we would like to remind our campers that check-in time is no earlier than 2:00 PM every day. Thank you!
Summer 2021:
As of July 15, 2021, all north region state parks have banned campfires and propane-fueled fire rings. Propane grills and cooking stoves are still permitted at this time.
Current Parks with Stage 2 Fire Bans:
Priest Lake State Park
Round Lake State Park
Farragut State Park
Heyburn State Park
McCroskey State Park
Dworshak State Park
Hells Gate State Park
Park Reservations
By phone: 1-888-9-CAMPID or 1-888-922-6743
Farragut Disc Golf Complex has FIVE fantastic 18-hole disc golf courses for all skill levels.  The Wreckreator, Northstar, A.W.O.L. and Cutthroat courses offer a world class disc golfing experience.  The Little Black Bear, an 18-hole putt-putt course, offers an encouraging and fun introduction to disc golf for beginners and those with children.  A large selection of golf discs can be found at the Farragut Gift Shop.
Downloads
(Course maps available soon)
Wreckreator Course Map
Northstar Course Map
A.W.O.L. Course Map
Current Conditions
Contact the Park
Address: 13550 E. Hwy 54
Athol, ID 83801
Phone: (208) 683-2425
Hours of Operation: Day-use locations within state parks are open from 7 am to 10 pm, per Idaho state code 26.01.20 (5). Day-use hours may change based on park manager discretion.
Email the Park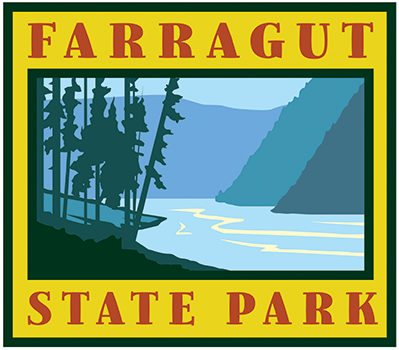 Upcoming Events
No Upcoming Events