PARK UPDATE:
Summer 2021
An air quality related burn ban has been lifted as of Wednesday, August 18, 2021 but Stage I Fire Restrictions remain in affect, which means:
Campfires are allowed within a designated recreation site. Please use caution and make sure the fire is dead out when you leave the campsite.
Smoking is prohibited except within an enclosed vehicle, building or designated recreation site or while stopped in an area at least three feet in diameter that is barren or cleared of all flammable materials.
General
All campsites are reservable. Same day camping, excluding cabins (first come-first serve) will be available if there are unreserved sites for that day.

Campsite Check-In time is 2 p.m. and Check-Out time is 1 p.m. These times are being strictly enforced. If you arrive before 2 p.m., you can wait in overflow parking and visit the rest of the park.

Cabins are available year-round by reservation only.
Restrooms are available throughout the park.
Showers are available in these locations: 

Trailside Campground: 2 men's, 2 women's
Wagon Wheel Campground: 4 men's, 4 women's
Day Use area: 2 unisex

The Oregon Trail History and Education Center 

Open daily 9 a.m. to 4 p.m.
**Note: if you are sick, have a fever, cough, or have knowingly been exposed to COVID-19, please do not enter the center. 
Park Reservations
By phone: 1-888-9-CAMPID or 1-888-922-6743

Oregon Trail pioneers knew Three Island Crossing well. It was one of the most famous river crossings on the historic trail and the most difficult crossing in Idaho. Crossing the Snake River was always dangerous, but when the water was low enough to negotiate, everyone crossed who could, to take advantage of the more favorable northern route to Fort Boise. During high water, most emigrants were forced to travel along the South Alternate route into Oregon — a dry, sandy, dusty, and hot trail that wore out man and beast.
The original course of the Oregon Trail was from Independence, Missouri to Oregon City in Oregon's Willamette Valley. Most pioneers traveled the trail from 1841 through 1848. However, fur trappers and explorers used the travel corridor as early as 1811. By the mid-1860s, the trail was used little as an emigration route.
The Oregon Trail entered Idaho in the southeast corner of the state. At Fort Hall, it joined the Snake River, following the south bank until Three Island Crossing was reached near Glenns Ferry. The route left Idaho near the site of old Fort Boise, near Parma, after winding through 500 miles of the state.
Upon reaching the Three Island Ford, the emigrants had a difficult decision to make. Should they risk the dangerous crossing of the Snake, or endure the dry, rocky route along the south bank of the river? About half of the emigrants chose to attempt the crossing by using the gravel bars that extended across the river. Not all were successful; many casualties are recounted in pioneer diaries. The rewards of a successful crossing were a shorter route, more potable water and better feed for the stock.
The Three Island Ford was used by pioneer travelers until 1869, when Gus Glenn constructed a ferry about two miles upstream. Some travelers continued to cross at Three Island to avoid paying for the ferry.

Current Conditions
Contact the Park
Address: 1083 S.Three Island Park Dr.
Glenns Ferry, ID 83623
Phone: (208) 366-2394
Hours of Operation: Oregon Trail History Center: 10:30 a.m. to 4 p.m., Tuesday-Saturday. Closed Sunday, Monday and holidays. Call ahead to verify hours.
Email the Park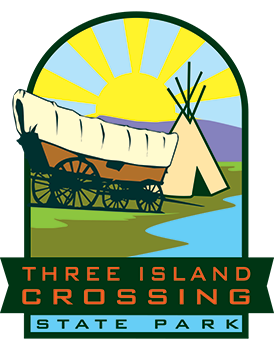 Upcoming Events