PARK UPDATE:
Summer Update 2023:
Broken Wheel and Eagle Cove campsites are available for reservations until October 22,2023.  Cabins are reservable year-round. Reservations may be made online at www.parksandrecreation.idaho.gov or calling Reserve America 1-888-922-6743
Equestrian Campground and unreserved sites in Broken Wheel and Eagle Cove campgrounds are available for same day camping.
The Observatory is open on Friday and Saturday nights. For the latest information, visit the Bruneau Dunes Facebook page or read this info flyer here.
Sand boards are available to rent at the Visitor Center
Sept 26 Construction: 
There will be a day use area closure on Wed Sept 26 due to construction. ALL day use areas [other than the Equestrian area] will be CLOSED. Paving will be occur on the 26th-29th but day use should be open by 9/27. Campers can still come in but please note that paving may cause delays.
Please note: UAV/Drone use is only permitted in the designated UAV area (contact the park for location). Flight outside of the designated are is strictly prohibited.
The park has day use areas, which include the dunes, which are only open to the public from 7 am to 10 pm. Please refer to IDAPA code 26.01.20.
Park Reservations
By phone: 1-888-9-CAMPID or 1-888-922-6743
Current weather conditions at the observatory.
You're invited to star gaze at the Bruneau Dunes Observatory! See the night sky as you've never seen it before. Observatory tours and solar viewing (through a specially adapted telescope) begin one hour before sunset, and are free of cost.
Following that, visitors can view short orientation program and then have the chance to survey the heavens through the observatory's collection of telescopes. There is a per person viewing fee (children 5 and under are free of cost). Check event listings for fees.
The observatory is open to the public from early June through mid-October on Friday and Saturday nights only, weather permitting. For presentation times, call 208-366-7919, or check the kiosk when you arrive at the park.
*Observatory nights are only held on Friday and Saturday nights, with the exception of 3-day holiday weekends.
Idaho Department of Parks and Recreation has identified the resource of our beautiful dark skies as a treasure to be protected.  Many of our Parks and Natural spaces in Idaho are striving to increase awareness of the dangers of light pollution, to reduce their impact on the night sky environment and obtain Dark Sky certifications where appropriate through the International Dark-Sky Association.  Please visit www.darksky.org for more information on this initiative and how you can make an impact!
What is light pollution?
Inappropriate or access use of artificial light.
Why is light pollution having a negative effect on Idaho?
Plants and animals depend on daily light cycles to sustain life preserving behaviors, such as migratory patterns and feeding cycles, artificial light at night has negative and even deadly effects on many wildlife species.
Nighttime viewing of astronomy is severely inhibited by "Sky glow" a phenomenon produced by large emissions of artificial light at night, additionally your natural night vision is briefly inhibited by white artificial light.
Many Americans sleep in an environment that's punctuated with some form of artificial light — whether it's coming from an intrusive streetlight, outdoor camper lighting or flashlights.  New research suggests that one night of sleep with just a moderate amount of light may have adverse effects on cardiovascular and metabolic health.
Steps you can take to preserve night sky's while enjoying your stay at any Idaho State Campground:
Swap outdoor lighting on your camper to an amber lensed fixture.
Change out high admitting bulbs to bulbs emitting under 500 lumens.
Make efforts to direct fixtures toward the ground and apply shields preventing vertical light emission.
Keep all lighting targeted in the direction it is needed and avoid unnecessary artificial light at night whenever possible.
Current Conditions
Contact the Park
Address: 27608 Sand Dunes Rd
Mountain Home, ID 83647
Phone: (208) 366-7919
Hours of Operation: Day-use locations within state parks are open from 7 am to 10 pm, per Idaho state code 26.01.20 (5). Day-use hours may change based on park manager discretion.
Email the Park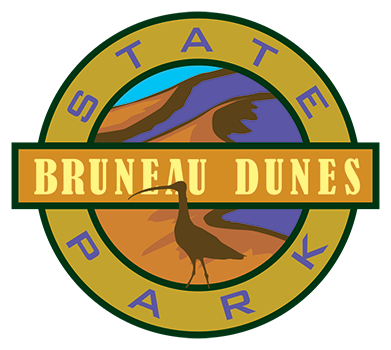 Upcoming Events
No Upcoming Events