PARK UPDATE:
Winter Update 2022:
All campgrounds are open through the winter and power is on. We have turned off domestic water in the Broken Wheel and Eagle Cove campgrounds. Those restrooms have also been winterized, but vault toilets are available in all campgrounds. For those needing water, frost free spigots are located in the Equestrian Campground so you can fill a jug or RV tank.
All campsites are first come/first served until March 16, 2023
The Visitor Center is open 7 days a week through the end of October. We will post new Visitor Center hours next month.
Sand boards are available to rent at the Visitor Center.
Observatory update: The Observatory has closed for the season
Please note: UAV/Drone use is only permitted in the designated UAV area (contact the park for location). Flight outside of the designated are is strictly prohibited.
The park has day use areas, which include the dunes, which are only open to the public from 7 am to 10 pm. Please refer to IDAPA code 26.01.20.
Park Reservations
By phone: 1-888-9-CAMPID or 1-888-922-6743
Bruneau Dunes State Park Cabins
Our small (11' 3" square) camper cabins are situated with an excellent view of the dunes and sleeps five on a bunk bed and futon.  From the large front porch, you can sit on the swing and gaze out at the dunes.   The cabins are furnished with a small table, two small benches, electricity, and an A/C & heating unit.  Each cabin has a picnic table and fire ring.  Guests must bring their own bedding.  
Mid-October through mid-March; water and restroom/shower facilities are not available.  Vault toilets are located nearby.
The charge for cabin rental is $67-72 per night.  Reservations can be made by calling Reserve America at 888-922-6743 or booking online at www.parksandrecreation.idaho.gov
For same day cabins stays please call the park ahead of arrival to ensure availability. No Walk-Ins will be accepted for Cabins after 3pm MST.
Current Conditions
Contact the Park
Address: 27608 Sand Dunes Rd
Bruneau, ID 83647
Phone: (208) 366-7919
Hours of Operation: Day-use locations within state parks are open from 7 am to 10 pm, per Idaho state code 26.01.20 (5). Day-use hours may change based on park manager discretion.
Email the Park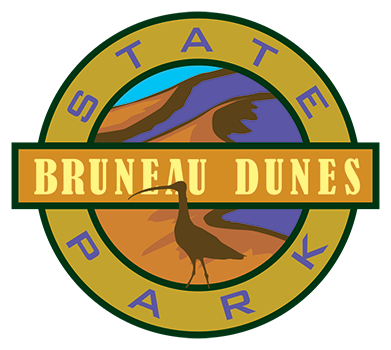 Upcoming Events
No Upcoming Events