PARK UPDATE:
May 2021
All campsites are reservable beginning March 11, 2021. Same day camping, excluding cabins (first come-first serve) will be available if there are unreserved sites for that day.

Campsite Check-In time is 2 p.m. and Check-Out time is 1 p.m. These times are being strictly enforced. If you arrive before 2 p.m., you can wait in overflow parking and visit the rest of the park.

Cabins are available year-round by reservation only.
Water has been turned on to the park, campsites, and facilities. However, this is weather-dependent. Water may be turned off due to freezing temperatures. Please come prepared or call the park prior to arrival.

Restrooms are available throughout the park.
Showers will remain closed until further notice due to COVID-19.

As of May 3, The Oregon Trail History and Education Center is open daily from 9:30 am to 4:00 pm!

The theater is open with the same hours and limitations.
The main exhibit is open and sanitized twice daily. **Note: if you are sick, have a fever, cough, or have knowingly been exposed to COVID-19, please do not enter the center. 

All new fees are posted at the entrance and the fee stations located in the campgrounds.
Park Reservations
By phone: 1-888-9-CAMPID or 1-888-922-6743
Those 62 years of age and older receive 50 percent off camping fees Monday through Thursday, excluding holidays. The discount applies only to campsites.
Motor Vehicle Entry Fee: $7 per vehicle
Electric Campsite: $26-$29 per night

Full Hook-Up Site: $28-$31 per night
Companion Campsite: $52-$55 per night
Cabins: $60-$65 per night
All fees are tax inclusive.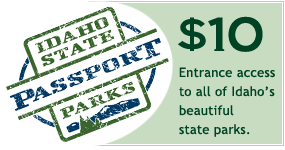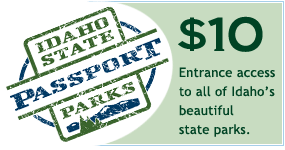 Current Conditions
Contact the Park
Address: 1083 S.Three Island Park Dr.
Glenns Ferry, ID 83623
Phone: (208) 366-2394
Hours of Operation: Oregon Trail History Center: 10:30 a.m. to 4 p.m., Tuesday-Saturday. Closed Sunday, Monday and holidays. Call ahead to verify hours.
Email the Park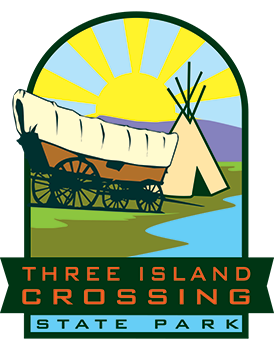 Upcoming Events
No Upcoming Events