The Idaho Department of Parks and Recreation owes its existence largely to the vision of one man, Governor Robert E. Smylie. He looked into the future and saw a professionally managed system of state parks available for the enjoyment of all Idaho's citizens and visitors. He kept that vision in mind when Roland and Averell Harriman offered to donate their beloved Railroad Ranch to the state if a professional managing agency was put in place before the transfer of their generous gift would take place.
Others took up this vision and, when the opportunity presented itself, added recreation to the agency's charge to take advantage of the new federal Land and Water Conservation Fund in 1966. The agency became the Idaho Department of Parks and Recreation, and through that federal program helped countless cities and counties across the state fulfill their own outdoor recreation visions in their individual communities.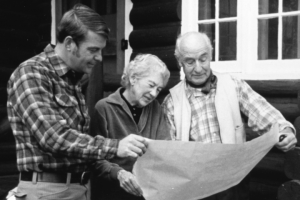 Since 1965, the Department has been governed by a six-person board with each member representing a different geographic area of the state. The board has the power "to appoint a director to serve at its discretion" (Title 67, Chapter 42, Idaho Code).
1966- 1971
Wilhelm A Beckert
1971-1975
Steve Bly
1976-1984
Dale R. Christiansen 
1984-1987
Robert L. Meinen
1987-2001
Yvonne Ferrell 
2001-2004
Rick Collignon
2004-2009
Robert L. Meinen
2009-2014
Nancy Merrill
2014-2020
David R. Langhorst
2020 (September, Interim), 2021 (April, Permanent)-Today
Susan E. Buxton