Be Advised:
The Pioneer Fire has caused damage to trees in the area. Tree-cover is minimal.
Winter
The Rocky Ridge yurt is accessed from the Whoop-Um-Up Park N' Ski parking lot. The trails are not groomed to this yurt. The yurt is located at the end of a rocky finger ridge, providing a spectacular 180-degree view to the east, south, and west. This is the "dog friendly" yurt where dogs are allowed in the winter. The rolling terrain around the yurt provides a playground for showshoers. Snow is usually available early December to mid April .
**We always recommend a high-clearance, all-wheel drive vehicle when traveling to the yurts.
Spring, Summer and Fall
Rocky Ridge yurt is ideally located for fishing in the Crooked River. It is about ¾ of a mile from the Crooked River by way of the Lamar Creek trail. The yurt is located at the end of a finger ridge, with spectacular views to the east, south and west. While exposed to the summer sun, there normally is a good breeze blowing through the area. The yurt is on the southern edge of the trail system where it connects with the Crooked River trail as well as the rest of the Idaho City Area Trail System. The yurt site is usually snow free early May to November.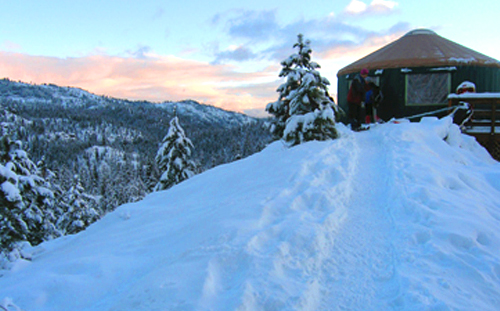 Download guides & maps
Please contact the Idaho City Ranger District at 208-392-3700 to obtain a map and get updates as to which trails are safe to recreate on before you go out and play.
Weather/Trail Conditions
Click here to check snow depths (search for Jackson Peak or Mores Creek Summit)
Questions?
Email the program or call 208-514-2418.
Upcoming Events
No Upcoming Events