IDPR Grants Department is Accepting Applications for Recreational Grants Until Jan 2024
Tuesday September 19, 2023
The Idaho Department of Parks and Recreation (IDPR) will accept applications for funds from the recreational programs listed below until January 26, 2024. All applications must be submitted electronically via the website (idaho.smapply.io).
The Recreational Vehicle Program (RV) is used to provide facilities, programs, or services for the health, safety or enjoyment of recreational vehicle users. Recreational vehicles are motor homes, travel trailers, pickup campers, tent trailers, and van conversions.
The Waterways Improvement Fund (WIF) is used for the protection and promotion of safety, waterways improvement, creation and improvement of parking areas for boating purposes, boat ramps and moorings, marking of waterways, search and rescue, and all things incidental to such purposes including the purchase of property.
The Off-Road Motor Vehicle Fund (ORMV) is used to acquire, purchase, improve, repair, maintain, furnish, and equip off-road vehicle facilities on public or private land and to assist with the enforcement of laws and regulations governing the use of off-road vehicles.
The Motorbike Fund (MB) is for securing, maintenance, construction or development of trails and other recreational facilities for off-highway vehicle use on state and federal lands.
The Recreation Trails Program (RTP) is used to acquire, purchase, improve, repair and maintain trails, trail facilities and sites for both motorized and non-motorized trail uses.
The Recreational Road and Bridge Fund (R&B) is to develop, construct, maintain and repair roads, bridges and parking areas within and leading to parks and recreation areas of the state.
The Cutthroat License Plate Fund (CLPF) is for the construction and maintenance of non-motorized boating access facilities for anglers.
The Mountain Bike Program Fund (BK) is for the preservation, maintenance and expansion of recreational trails within the State of Idaho and on which mountain biking is permitted.
The Land and Water Conservation Fund (LWCF) is granted to local governments for outdoor recreation enhancements such as playgrounds, ball fields, swimming pools, tennis courts, etc.
If you are considering a project that may qualify for IDPR grant funding, we recommend that you contact your regional Grants Specialist now.
Below is also a notice announcing the upcoming IDPR grant workshops for the programs listed above. If you plan to attend one of these workshops, please RSVP prior to September 30, 2023.
If you need reasonable accommodations to participate in this meeting or event due to a disability as defined under the ADA, please contact Kathy Muir at 514-2431 or Kathy.Muir@idpr.idaho.gov at least seven (7) business days prior to the scheduled meeting to request an accommodation.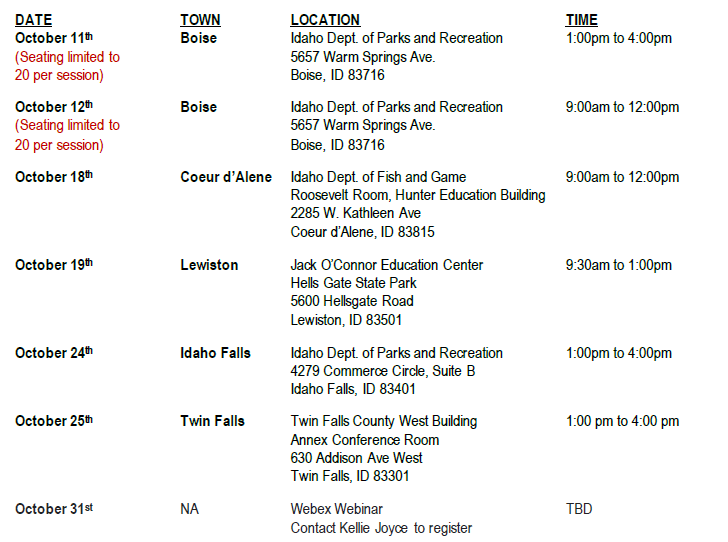 For Boise and Twin Falls workshops, please contact Kellie Joyce, South Region Grant Officer at Kellie.joyce@idpr.idaho.gov or (208) 514-2432.
For Lewiston and Coeur d'Alene workshops, please contact Tiffany Brunson, North Region Grant Specialist at Tiffany.Brunson@idpr.idaho.gov or (208) 514-3396.
For Idaho Falls workshop, please contact Shelly Smith, East Region Grant Specialist at Shelly.smith@idpr.idaho.gov or (208)701-7077.
Webinars will be available for those who are unable to attend any of the above seminars.
If you do not RSVP, you will not be permitted to attend the in-person workshops due to room capacity. IDPR will also host at least one on-line training session for those unable to attend in-person trainings. Separate LWCF training will also be available via webinar format in November.