Fire Restrictions Eased at North Idaho Parks — Campfires Allowed for Labor Day Weekend!
Wednesday August 30, 2023
NORTH IDAHO -- The shift to Stage 1 fire restrictions will allow campfires in designated facilities at all Idaho State Par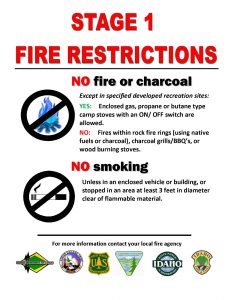 ks, including those within the state's five most northern counties, where tighter restrictions previously have been in effect.
Fires are allowed in park-provided facilities, such as metal campfire rings, at Farragut, Heyburn, Priest Lake, McCroskey and Round Lake state parks. Also allowed are enclosed gas, propane or butane camp stoves with an on/off switch.
Portable charcoal grills and wood-burning stoves remain off limits during Stage 1 restrictions at the parks listed above. Smoking is allowed in vehicles or buildings, where otherwise allowed, and outdoors in areas that are three feet in diameter, free of flammable material.
For more information and the latest updates on Fire Restrictions, visit the Idaho Department of Land's Fire Restrictions Finder.