Annual Grant Workshops Start Soon – Sign up now!
Thursday September 1, 2022
GRANT WORKSHOPS
The Idaho Department of Parks and Recreation (IDPR) will be conducting grant workshops on the above-listed programs, in various areas of the state. The purpose of these workshops will be to review the administrative rules and guidelines, give instruction on how to fill out an application, and explain the evaluation process. All prospective grantees are encouraged to attend these free workshops.
If you plan to attend, please RSVP no later than September 30,2022.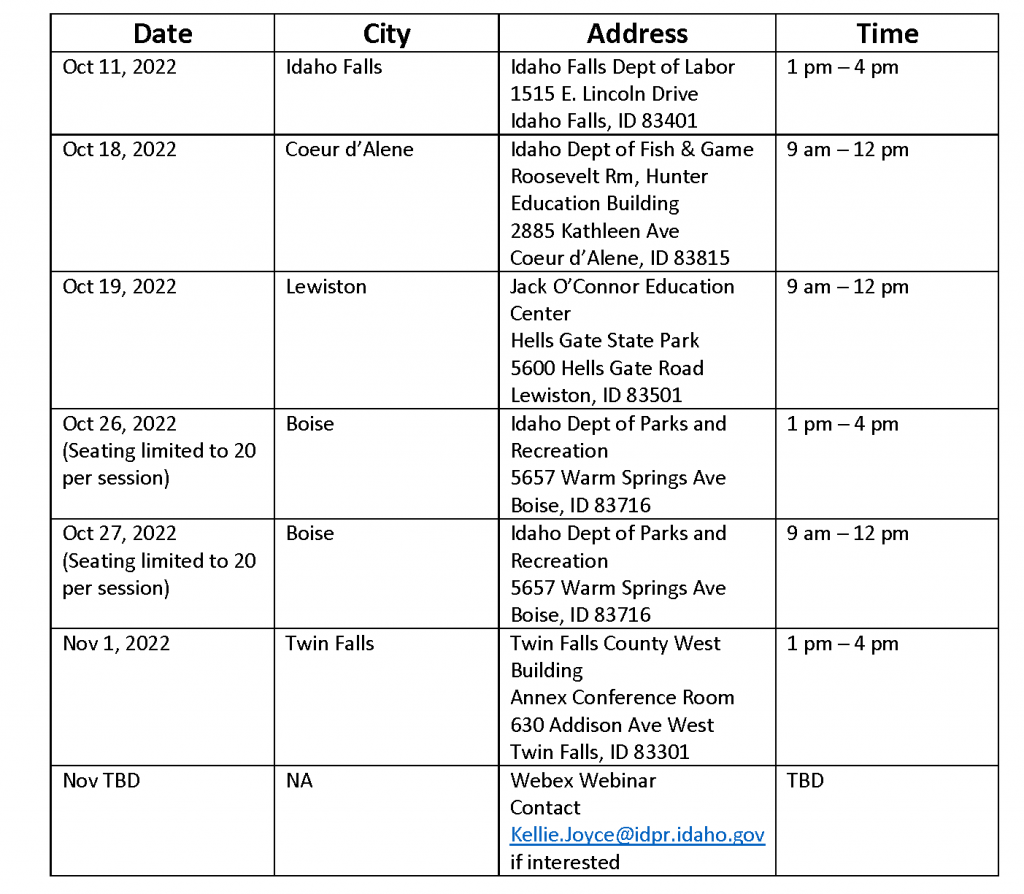 For Boise and Twin Falls workshops, please contact Kellie Joyce, South Region Grant Officer at Kellie.Joyce@idpr.idaho.gov or (208) 514-2432.
For Lewiston and Coeur d'Alene workshops, please contact Tiffany Brunson, North Region Grant Specialist at Tiffany.Brunson@idpr.idaho.gov or (208) 415-3396.
For Idaho Falls workshop, please contact Shelly Smith, East Region Grant Specialist at Shelly.Smith@idpr.idaho.gov or (208)701-7077.
Webinars will be available in November for those who are unable to attend any of the above seminars.
Note: IDPR is monitoring the case levels related to COVID-19. In-person workshops may be capped at a certain number of attendees or re-scheduled as on-line webinars. If you do not RSVP you will not be permitted to attend the in-person workshops due to room capacity and social distancing measures. IDPR will also host at least one on-line training session in early November for those unable to attend in-person trainings.