PARK UPDATE:
Winter 2022:
Please note: Currently our campground has power only, no water service. Campsites are first come, first serve until March 16th. Restrooms are available on the east side of the building on the right as you enter the park, with restrooms and showers available in our day use area.   Restrooms are also available at the Oregon Trail History and Education Center during normal business hours.
Visitor Center Hours:
Tuesday-Saturday     9:00am to 4:00pm
Sunday-Monday        CLOSED
General
All campsites are reservable. Cabins require a reservation. Campsites do not at this time.

Campsite Check-In time is 2 p.m. and Check-Out time is 1 p.m. These times are being strictly enforced. If you arrive before 2 p.m., you can wait in overflow parking and visit the rest of the park.

Cabins are available year-round by reservation only.

**Note: if you are sick, have a fever, cough, or have knowingly been exposed to COVID-19, please do not enter the center.
Park Reservations
By phone: 1-888-9-CAMPID or 1-888-922-6743
Eight cabins are for rent and six are available year round. These one-room cabins sleep up to five people on bunk beds and futons.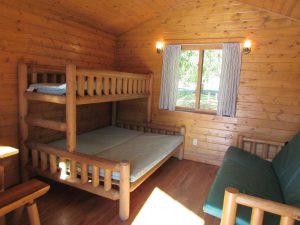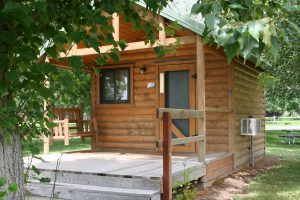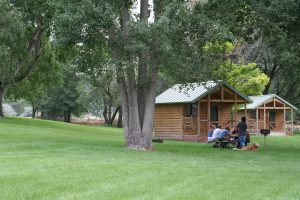 Guests must bring their own bedding. Cook outside on the grill-covered fire pit. The cabins have power, heat and air conditioning. No pets allowed.
Make a Reservation
Current Conditions
Contact the Park
Address: 1083 S.Three Island Park Dr.
Glenns Ferry, ID 83623
Phone: (208) 366-2394
Hours of Operation: Oregon Trail History Center: 9 a.m. to 4 p.m., Tuesday-Saturday. Closed Sunday, Monday and holidays. Call ahead to verify hours.
Email the Park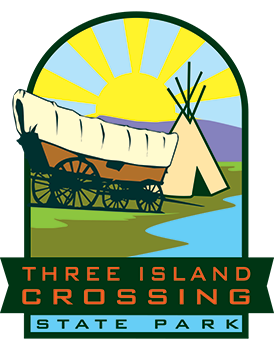 Upcoming Events