PARK UPDATE:
Update July 12, 2022: Burn Ban in Place for Bear Lake County
Due to restrictions set in place by the Bear Lake County Fire District, no campfires will be allowed in campsites at Bear Lake State Park. Propane fire rings and charcoal grills are allowed. Thank you for your understanding. 
Just a reminder, North Beach reaches capacity most Fridays at around 11am. On Saturdays, we fill by 10am. We do try to reopen later in the afternoon, as soon as visitation levels drop.
You can now RESERVE YOUR SPOT at North Beach by purchasing a Parking Day Pass.
Park Reservations
By phone: 1-888-9-CAMPID or 1-888-922-6743
Current Conditions
Contact the Park
Address: 25 East 300 North
St. Charles, ID 83272
Phone: (208) 945-2325
Hours of Operation: Day-use locations within state parks are open from 7 am to 10 pm, per Idaho state code 26.01.20 (5). Day-use hours may change based on park manager discretion.
Email the Park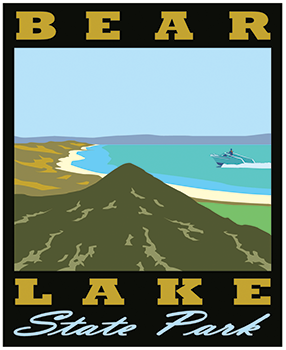 Upcoming Events