Winter
The Elkhorn yurt is conveniently located off the Elkhorn Loop trail for use by Nordic skiers and snowshoers. This yurt is the most remote of all the Idaho City yurts. You have direct access to over 27 miles of groomed and 50 miles of marked ski trails. The 270° view to the east, south and west is spectacular, especially in the evening. From the yurt you can see Jackson Peak, Wolf Mountain, Steele Mountain, the Trinity range, Sunset Peak, and Pilot Peak. The open, rolling terrain below the yurt provides off‐trail skiers a chance to polish their skills. The nearby ungroomed Cougar trail provides access to a prime intermediate/advanced telemark area. This secluded telemark area is about .5 miles away and has 500 feet slopes facing all directions. Snow is usually available early December to mid April.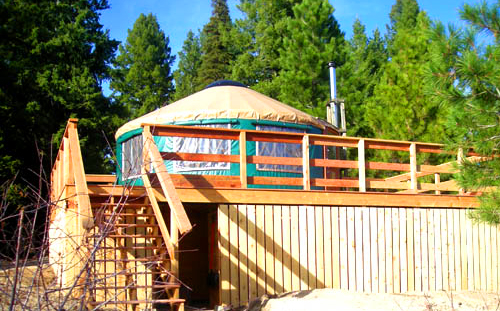 Download guides & maps
Please contact the Idaho City Ranger District at 208-392-3700 to obtain a map and get updates as to which trails are safe to recreate on before you go out and play.
**We recommend a high-clearance, all-wheel drive vehicle when traveling to the yurts.
Spring, Summer, Fall
The Elkhorn yurt is conveniently located for use by hikers, mountain bikers, and equestrians who want a remote ride‐in or walk‐in experience. Over 50 miles of old roads and single‐track trails can be accessed from this yurt, which is located about halfway around the Elkhorn loop trail. Its high elevation of 6,400 feet offers spectacular views to the north, east, and south. In the evening, a warm orange alpenglow reflects off Wolf, Goat, and Steele Mountains to the east. This is the place to "get away from it all" and watch the wildlife. Elk, deer, bear, and mountain lion are often seen nearby. As the snow melts, hundreds of mushrooms, including the tasty Morel, can be found growing in the dense woods and nearby areas. The yurt site is usually snow free early May to early November.
Upcoming Events
No Upcoming Events