Download a brochure about white water safety
Download a brochure for new paddlecraft owners
Safety tips
Follow these guidelines to make your trip safe and fun:
Pick an appropriate stretch of river
Match your skills and experience to the class of river using the Scale of Difficulty. The Scale of Difficulty rates a rapid by the level of skill needed to navigate its obstacles and to survive an accidental swim.
Dress for an unexpected swim!
Cold water can rob you of your strength, impair your ability to swim and cause hypothermia.  Wear a wetsuit, drysuit, nylon or fleece layers — never cotton!
Use proper equipment
Coast Guard approved white water life jacket (Type 3 or 5).
Helmet
Cold water protective clothing (never cotton) and protective footwear
Throw rope, whistle, knife
Keep your group close together
Prepare a float plan and rescue strategy
Remember: the safety of your group is only as strong as your least experienced member
Recognize and avoid hazards
Look for fallen trees, low hanging branches
Rocks and undercuts
Powerful water hydraulics
Swim aggressively or defensively
Away from hazards, toward calm water, shore or raft
Avoid undercut banks and rocks
Point feet up and pointed downstreams
Use arms to maneuver
Don't stand up!  Fast water can entrap your foot, between rocks, push you over and pin you under the surface.
Self rescue
If spilled, check your partner, get upstream and swim to safest shore
Leave the boat only when it will improve your personal safety
If rescue isn't likely, if the water is numbing cold or if a worse set of rapids is approaching, swim to the safest shore.
Idaho, the "whitewater state", is a river-runner's dream. But there are risks associated with whitewater paddling.  
Links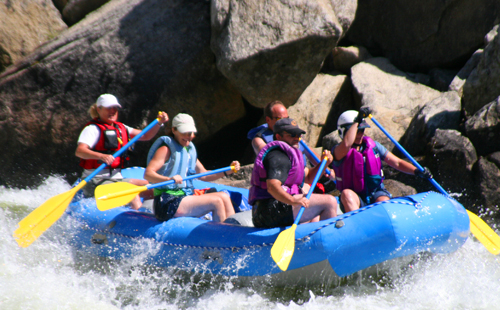 Upcoming Events
No Upcoming Events