The Idaho Department of Parks and Recreation has many learning opportunities from campfire and Junior Ranger programs in our parks, to safety programs for motorized recreational activities.
Educational Park Programming
Many parks offer on-site environmental education opportunities, click here for more information or give your local Idaho state park a call!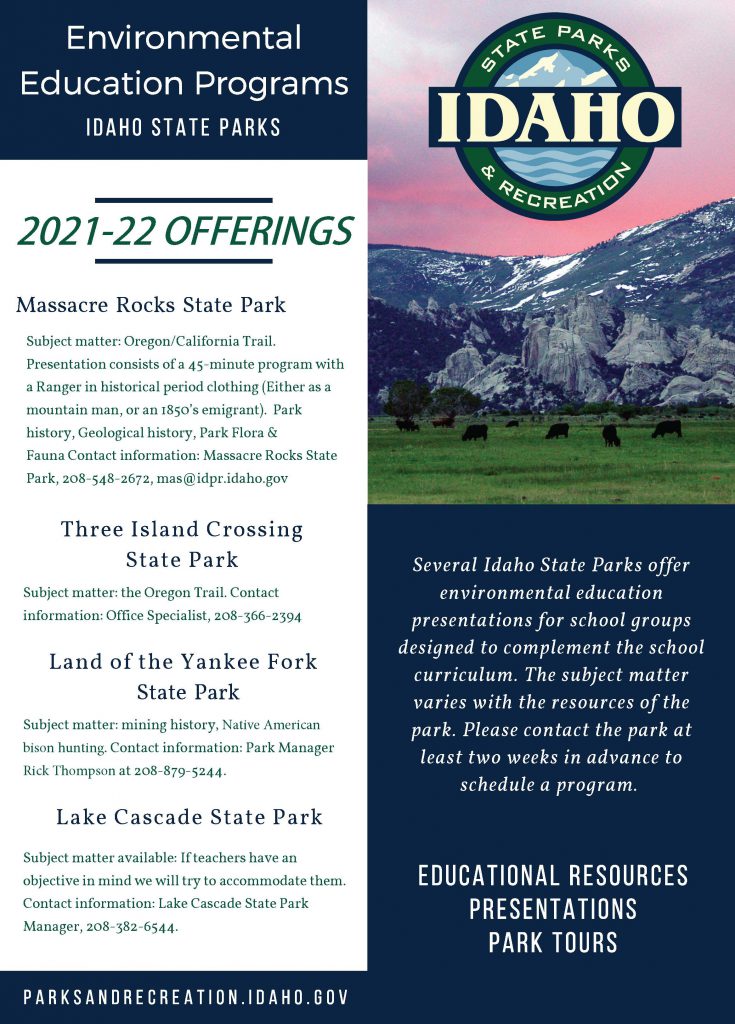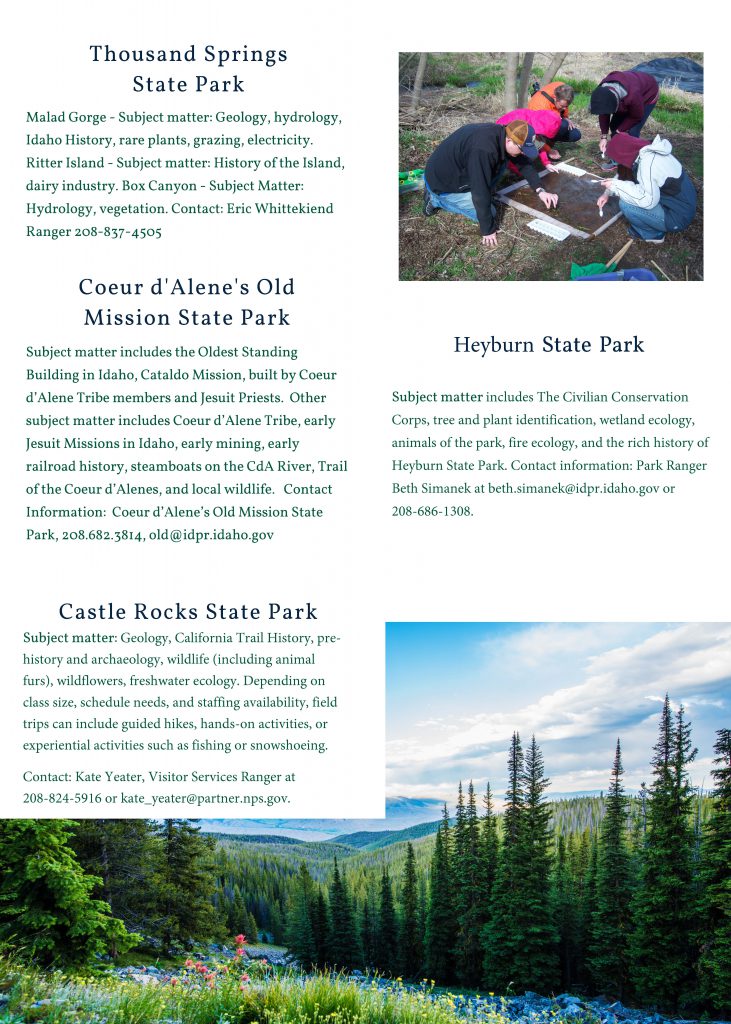 If you have recently attended a park presentation with your class, please fill out this evaluation form. Your feedback allows us to improve our programs!
Lesson Plans
Lesson 1: 100 Years of Idaho Parks. Introduction to parks history and expanded content relating to the DVD.
Lesson 2: State Park Origins. About Idaho's first state park and the young men who built it.
Lesson 3: Mapping Idaho. Using graph paper to plot Idaho's state parks on a map.
Lesson 4: State Park Weather. Learning how weather affects your visit.
Lesson 5: Water Safety. Learning about water safety and more about state parks.
Lesson 6: State Parks by Design. Learning about the purpose of state parks and how they are managed.
Lesson 7: Travel Planning. Plan a trip to a state park learn about map legends.
Lesson 8: The Park Brochure. How would you design a brochure for a state park? What would you put in it?
Lesson 9: Historic Buildings. Learn that many historic buildings, including the oldest in Idaho, are in state parks. Art project: Your own Cataldo Mission.
Lesson 10: The State Parks Challenge. Match up questions and answers about the things you have studied.
Complete Resource Book (8 mb download)
Be Outside, Idaho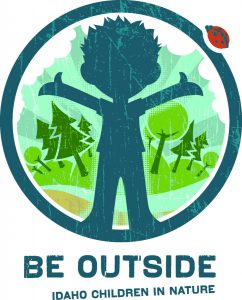 Be Outside, Idaho is a coalition of over 100 diverse organizations (Including Idaho Department of Parks and Recreation) that collaborate and share resources to help address 'nature deficit disorder' and connect Idaho's youth to the outdoors. Our partners include representatives from: state and federal public lands managers, wildlife managers, healthcare providers, educators, city parks and recreation departments, nonprofit organizations, elected officials, individuals and others. Be Outside Idaho provides resources and opportunities to Idahoans that promote youth activity and outdoor time. Check out the many, many resources available: Link to teacher's resources
Additionally, Thousand Springs State Park offers experiential learning that meets Idaho's State Teaching Standards in Geology, U.S. History, and Idaho History. Download a brochure that discusses this program and others available in the area via a partnership with U.S. Fish and Wildlife Service and the National Park Service.
More Great Learning Resources
For students in Idaho, current online learning opportunities Idaho State Parks offer include:
Castle Rocks State Park/City of Rocks National Reserve are offering online learning experiences through short video presentations:
Below are park videos:
The videos can also be seen on Castle Rocks State Park & City of Rocks National Reserve Facebook pages.
Old Mission State Park offers a video that can be downloaded on the park history, as well as:
Cataldo Mission Fact Sheet
Coeur d'Alene's Old Mission Persons and Places
Coeur d'Alene's Old Mission Vocabulary
Mission Grounds
Parish House Fact Sheet
Upcoming Events
No Upcoming Events