The Idaho Department of Parks and Recreation wants to make sure you are prepared, educated, and legal before you take to the trail with your off-highway vehicle (OHV). Be sure to stay on trails and areas designated for your vehicle type when you venture out with your OHV.
IDPR Mapping Program
To find OHV trails across the state visit IDPR's Trail Mapping Program. Plan your routes from your PC or mobile device, create custom georeferenced map files (GeoPDFs) for offline mobile navigation, or print maps to paper.
Route information is combined into a single map from US Forest Service Motor Vehicle Use Maps (MVUMs), Bureau of Land Management (BLM) Travel Management Area Maps, and Department of Lands (IDL) Recreation Access maps. Funded by OHV registrations, the Trail Mapping Program requires no login to use freely.
Map Availability
Paper maps may be obtained at Forest Service and BLM offices around the state.
However, digital options are available as well for offline, GPS-enabled navigation, and tracking purposes. To navigate offline using GeoPDF maps such as USFS MVUMs, install an app that has GeoPDF import and GPS geolocation capability from the Apple App Store or Google Play. 
GPS technology in your mobile device combined with GeoPDFs can help you know your location relative to the land agency's map. Some GeoPDFs may also be downloaded to your PC for review in a PDF reader and printed to paper.
GeoPDF Sources
In-App
When using GeoPDF maps in an app on a mobile device, tap the app's "Store" button. Search inside the app's interactive map, or try a text-based search with keywords such as "Boise MVUM" or "Challis BLM Travel" to find maps from each agency's Map Store. All USFS MVUMs and BLM Travel Maps are authoritative, free of charge, and available from the Map Store of the most commonly-used GeoPDF mapping app, Avenza® PDF Maps.
Web Sites and User-Created
Some GeoPDFs may be obtained or are only available from sources outside a map app's "Store" such as from the web sites linked below. You may also create custom GeoPDF maps from IDPR's Trail Mapping Program. These map files can be viewed on a PC, or imported into a GeoPDF-capable app once saved to a mobile device. If a same PDF map version is available from an app's Map Store versus by downloading from a web site, the in-app Map Store method of obtaining the map will usually be the preferable option.
| US Forest Service MVUMs (Regions 1 & 4) | BLM Travel Management Idaho Maps | Idaho Department of Lands |
| --- | --- | --- |
| | | |
| | | |
* Links go to the web-based version of the Avenza® Store. Maps post in a shopping cart then become available for import upon logging into the app on your device. Searching for and downloading maps from the app's Store inside the mobile app is usually simpler.
Did you know?
When you purchase your certificate of number for your OHV, the fees collected go towards OHV education, safety programs, and trails.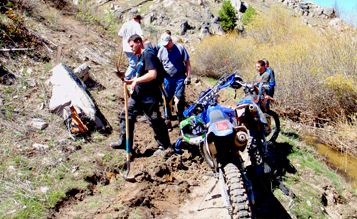 Upcoming Events
No Upcoming Events