Notice: Pasture for Lease at Castle Rocks State Park
Wednesday February 24, 2021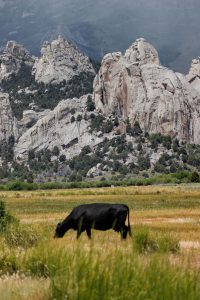 The Idaho Department of Parks and Recreation is offering 165 AUM for cattle grazing at the Castle Rocks State Park – Ranch Unit (CRSP).  The Ranch Unit allotment is mostly irrigated pasture.  Up to 55 cow/calf pair may be turned out on CRSP pasture on June 3, 2021, and remain until September 3, 2021 (Approximately 3 months).*  Dates may vary due to forage availability. 
This lease is for the 2021 season only.  Minimum bid is $5,775 ($35.00 per AUM).  $2,000,000 Aggregate Insurance is required (request details prior to bidding). Lessee will be responsible for preliminary and routine fence maintenance. Fences are currently in good condition. Repairs must be completed and inspected prior to turnout.  For additional requirements, please request a copy of the unsigned 2021 lease agreement. 
Bids must be based on the full 165 AUM.  One quarter of the total bid price is to be paid prior to turn out. The remainder is payable in equal amounts on July 1, July 31, and August 31, 2021. Sealed bids will be accepted prior to 3 p.m., Monday, March 08, 2021.  A public bid opening will take place at the City of Rocks Visitor Center at 3 p.m., March 08. In the event of a tie, top two bidders will be offered an opportunity to increase their sealed bid.
Bids may be hand delivered or mailed to:
Castle Rocks State Park
Attention: Sealed Bid
P.O. Box 169
3035 Elba-Almo Road
Almo, ID 83312
For more information please contact:
Wallace Keck, Park Manager
208-824-5911 office
208-312-2796 cell
Wallace_Keck@partner.nps.gov