Idaho Department of Parks and Recreation Wins Award for Junior Ranger Program
Friday November 13, 2020
The Junior Ranger Program Activity Guide, which received a second-place award from the National Association for Interpretation, annually helps thousands of children discover and appreciate the natural world on display at Idaho's State Parks.
The guide placed in the Site Publication category at the association's national conference and was announced this week. The competition covered 2019 publications, and included submissions from National Park Service units and other state park systems.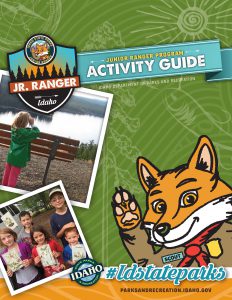 In 2019, more than 8,000 children, ages 6 to 12, participated in the Junior Ranger program, completing activities offered available at 22 Idaho State Parks. The guide includes information on safety and Leave No Trace principles, plus lessons about Idaho's state plants and animals, specific information about nocturnal wildlife, ideas for making projects, as well as questions to help children reflect on their visit on the way home.
Due to COVID-19 concerns, the Junior Ranger program moved online in 2020 and can be accessed online at parksandrecreation.idaho.gov/activities/junior-ranger/.
The guide came from the department's Interpretive Team, which for 2019 included: Jamie Little, Experience/Education Supervisor; Wallace Keck, Manager at City of Rocks/Castle Rocks Parks; Terri Bryant, Ranger at Ponderosa; Errin Bair, Ranger at Farragut; Mary McGraw; Manager at Round Lake; Courtney Davenport, Ranger at Lucky Peak, and Kathleen Durfee, Manager at Old Mission/Trail of the Coeur d'Alenes.
Brainstorm Ink and Cornwell Creative, graphic design firms for the guide, also share recognition in the award.
The National Association for Interpretation (NAI) is a 501(c)(3) not-for-profit professional organization dedicated to advancing the profession of heritage interpretation, currently serving about 7,000 members in the United States, Canada, and over thirty other nations. Individual members include those who work at parks, museums, nature centers, zoos, botanical gardens, aquariums, historical and cultural sites, commercial tour companies, and theme parks.
For further information, please contact Experience/Education Supervisor Jamie Little at Jamie.little@idpr.idaho.gov